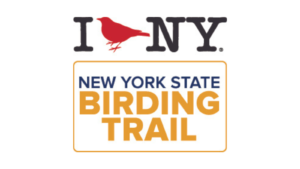 New York State Department of Environmental Conservation (DEC) Commissioner Basil Seggos today announced the addition of 12 new locations to the New York State Birding Trail. These new locations bring the total number of birding trail locations across the state to 344 and provide a wide variety of quality birding experiences for everyone, regardless of age, ability, identity, or background.
"The New York State Birding Trail is helping enhance access to nature for countless New Yorkers, from Long Island to Buffalo," said Commissioner Seggos. "The 12 new birding trail sites announced today will help attract even more visitors to experience the outdoors close to home, particularly during key times of year for birders, like the current fall migration, and bring the total to more 340 diverse and unique birding opportunities available across New York State."
Birdwatching has become one of New York's fastest-growing recreation and tourism activities. DEC manages the New York State Birding Trail in collaboration with partners that include the Office of Parks, Recreation and Historic Preservation. The statewide trail network includes promoted birding locations that can be accessed by car or public transportation, providing an inclusive experience for all visitors to enjoy birds amid beautiful natural settings with little or no cost or investment in equipment.
State Parks Commissioner Erik Kulleseid said, "The New York State Birding Trail helps people see and learn about our state's diverse species of birds in their native habitats. These 12 new locations add to the all the great places New Yorkers and visitors can enjoy and appreciate the natural world – and we encourage all to check them out."
Empire State Development Vice President and Executive Director of Tourism Ross D. Levi said, "This fall, as visitors and birds flock to New York, we are excited that there are even more areas on the New York State Birding Trail to appreciate our flying feathered friends. I LOVE NY is proud that there are so many prime locations that welcome birdwatchers of all ages and experiences. Coupled with the expanded Trail, there are countless opportunities for a fall getaway – from one of the longest foliage seasons in the country, to fall festivals, delicious food and craft beverages, and unique accommodations, making it easy to love New York."
The new locations are located on public and private lands across the state:
Central-Finger Lakes: Baltimore Woods Nature Center (Onondaga County)
Greater Niagara:

Amherst Veterans Canal Park (Erie County)
Eight locations within the City of Buffalo (Erie County)

Cazenovia Park
Delaware Park
Ralph C. Wilson, Jr. Centennial Park
Ship Canal Commons/Buffalo Lakeside Commerce Park
South Park / Buffalo Botanical Gardens
Unity Island
Broderick Park
Bird Island Pie

Long Island: Theodore Roosevelt Sanctuary and Audubon Center (Nassau County)
Southern Tier: Audubon Community Nature Center (Chautauqua County)
Now is an exciting time for birding with fall migration underway, and these new additions provide visitors with unique experiences, from large preserves and nature centers with diverse habitats to urban oases steeped in history and teeming with wildlife. As birds make their way back to their wintering homes, a favorite birding site can change within a few days, with different species traveling in and out of a region.
The New York State Birding Trail map is available at the New York State Birding webpage and provides valuable information on each site such as location, available amenities, species likely to be seen, directions, and more. Digital information on the Birding Trail will be updated periodically, so budding outdoor enthusiasts are encouraged to check back often. DEC encourages birding enthusiasts to visit I Bird NY for more information on where and how to observe birds, upcoming bird walks, a downloadable Beginner's Guide to Birding (PDF) (available in Spanish (PDF)), and additional resources.
DEC also reminds New Yorkers to turn off nighttime lights during fall migration. The 'Lights Out' initiative is aimed at keeping non-essential outdoor lighting from affecting the ability of birds to migrate successfully. Many species of shorebirds and songbirds rely on constellations to help them navigate to and from their summer breeding grounds through the State. Excessive outdoor lighting, especially in adverse weather conditions, can cause these migrating birds to become disoriented.
In addition to State-owned and managed locations for the Birding Trail, publicly and privately managed sites can complete a simple self-nomination process to be considered for inclusion on the trail. Nominations are reviewed and added to the Birding Trail on a quarterly basis.
Selected sites meet criteria to help ensure a positive experience for visitors throughout the state. Additionally, sites post signage noting them as official locations on the Birding Trail. For information on the nomination process and the updated form and guidelines, see the New York State Birding webpage.
New segments of the Birding Trail were opened in a phased approach from October 2021 through August 2022. DEC continues to solicit input from a wide range of New Yorkers and organizations that represent Black, Indigenous, and People of Color (BIPOC) communities and is making trail information available in both English and Spanish. Bird walks will be held in collaboration with organizations working with BIPOC communities.
Co-Chair of the Feminist Bird Club Buffalo Chapter Lauren Makeyenko said, "The addition of 8 new locations in the City of Buffalo to the New York State Birding Trail enhances our commitment to accessible and inclusive bird watching experiences. Whether you're a seasoned birder or a newcomer, these locations are a great way to discover the beauty of our state's avian treasures. The 'Lights Out' initiative is a simple and effective way for everyone to help protect birds' journeys during migration!"
Executive Director, Audubon Community Nature Center Leigh Rovegno said, "Audubon Community Nature is excited to be a part of the New York Birding Trail. Our property was one of the many places that Roger Tory Peterson birded as he was growing up in Jamestown, New York. The property is carefully managed to create a diversity of habitats that attract hundreds of species of birds. Our six miles of trails wind through marshes, swamps, fields, forests, ponds, and brushy areas which provide an amazing variety of birds to be seen."
Resource Coordinator of the town of Amherst's Youth and Recreation Department Elizabeth M. Graczyk said, "The Town of Amherst is honored to be the host of 4 birding trail locations, including the recently approved location at Amherst Veterans Canal Park. This unique waterfront habitat, along with accessible location along the Canalway trail, offers guests of all abilities the opportunity to observe a variety of birds throughout the park."
WNY Young Birder Club Members Maisie (10) and Sam (13) said, "Ship canal is a great place for families to explore Buffalo history and birds! We recommend going there to find ducks, woodcock, and short-eared owls. Birds are awesome!"
DEC manages and oversees five million acres of public lands and conservation easements and plays a vital role in both protecting New York's natural resources and providing opportunities for people to enjoy the outdoors. From fishing on scenic streams, hiking and rock climbing, swimming and boating, birding, and nature study, or simply relaxing in a tent under the stars, there are endless adventures to be found. Visit DEC's Outdoor Activities webpage.
---

All WNY is made possible thanks to coffee and sleep deprivation.
We appreciate your readership. We like money, too.