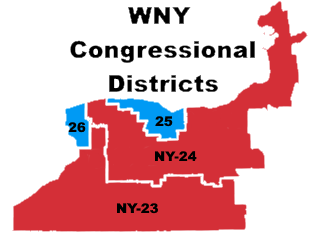 Rural Western New York voters overwhelmingly supported Republican Congressional candidates, sending Nick Langworthy (R-23) and Claudia Tenney (R-24) to represent them in Washington. Meanwhile, the Buffalo- and Rochester-centric Congressional Districts voted to re-elect Brian Higgins (D-26) and Joseph Morelle (D-25), respectively.
Langworthy bested Max Della Pia in the 23rd district by a 64-34 margin. Nearly 2 percent of voters chose to write a candidate in. Langworthy benefited from name recognition in the race, having served as Chairman of the state GOP since 2019.
Tenney, who currently serves as a Representative for New York's 22nd Congressional District, bested Steve Holden by a 66-34 margin.
In NY-26, Brian Higgins was returned by a 64-36 margin over Republican Steve Sams. Higgins will begin his 10th term in Congress in January.
In the Rochester-centric 25th Congressional District, Morelle won a 54-46 margin over La'Ron Singletary. Morelle has represented the district since 2018.
As of the writing of this article, Democrats had won 14 seats in the state's 26 Congressional districts. Republicans had claimed victory in 5 of the districts. Seven districts were yet to be decided.
---

All WNY is made possible thanks to coffee and sleep deprivation.
Buy us a cup? (of coffee, we can handle the sleep deprivation ourselves)