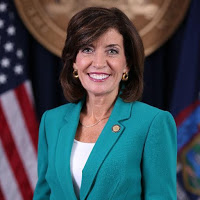 New York Gov. Kathy Hochul will retain her position in the New York State Executive Mansion after being given the proverbial keys to the residence in August of 2021 following former Gov. Andrew Cuomo's resignation.
Hochul fought off Long Island Republican Lee Zeldin, who has served as the Congressman from NY's First Congressional District. Hochul's margin over Zeldin was 53-47 with 93 percent of the votes counted at 5 a.m.
Hochul, who served on the Hamburg Town Board, as the Deputy Erie County Clerk, Erie County Clerk, Congresswoman and Lt. Governor prior to her ascension as Governor in 2021, will be the state's first elected female governor.
Although Hochul led in most polls heading into election day, there was significant expectation from political pundits that the race would be closer than it turned out to be and even some speculation that Hochul could lose the seat.
---

All WNY is made possible thanks to coffee and sleep deprivation.
Buy us a cup? (of coffee, we can handle the sleep deprivation ourselves)