UNIVERSITY AT BUFFALO ATHLETICS
---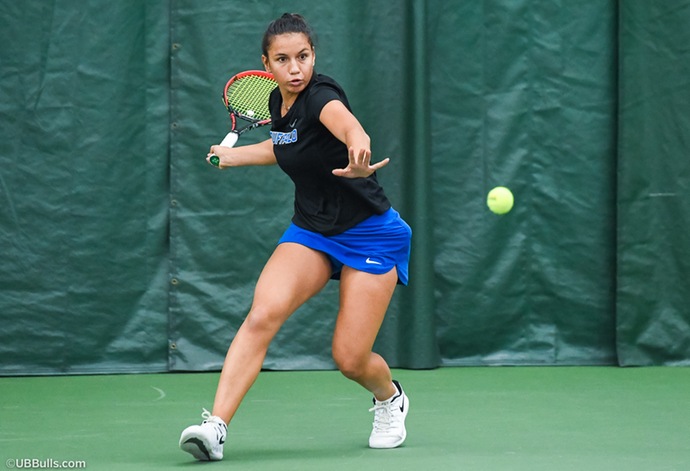 BUFFALO, N.Y. —

The University at Buffalo women's tennis team hosted the UB Fall Invite this past weekend at the Miller Tennis Center where the Bulls competed against athletes from Rutgers and UConn.
In singles action, Martinez Blanco had little trouble with Jacquelyn Fitz-Randolph as she won, 6-0, 6-1, while Antoniou-Karademitrou won her match 4-6, 6-4, 6-1. Schwarz scored a 4-6, 6-4, 6-2 win, while junior Emel Abibulawon her contest, 2-6, 6-3, 6-4. Also picking up singles wins on Saturday were Losada Rubio with a 6-4, 6-2 win and Paules Aldrey, who had a 6-3, 5-7, 7-6 (0) victory.
On Sunday, the Bulls played members of the Rutgers Scarlet Knights. In doubles, Martinez Blanco and Antoniou-Karademitrou won their match 6-4, while Abibula and senior Sanjana Sudhir won their match, 6-1.
Antoniou-Karademitrou won her singles match for a second straight day with a 3-6, 6-3, 7-5 victory, while Schwarz won her match, 4-6, 6-4, 6-2. Also picking up a win Sunday was Paules Aldrey, who won 7-6 (4), 6-1.
The Bulls will close out their fall season this upcoming weekend as they head to Boca Raton, FL for the MAC Preseason Tournament.
---

All WNY is made possible thanks to coffee and sleep deprivation.
We appreciate your readership. We like money, too.