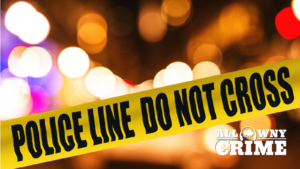 On November 15, 2023, The Bureau of Criminal Investigation out of SP Jamestown arrested Jayden Shugars, 19 of Randolph, NY for Rape 1st degree (B Felony), Rape 2nd degree (D Felony) and Criminal Obstruction of Breathing (A Misdemeanor).
On August 29, 2023, Troopers received a complaint of a possible sex crime in the town of Randolph, NY. Investigation determined that Shugars forcibly restrained a 14-year-old female victim and had sexual intercourse. The victim had injuries around the neck and a sex offense evidence collection kit was retrieved for lab analysis.
On November 13, 2023, the Cattaraugus County Superior Court issued and Arrest Warrant for Shugars. Shugars was arrested without incident and turned over to Cattaraugus County Jail for centralized arraignment.