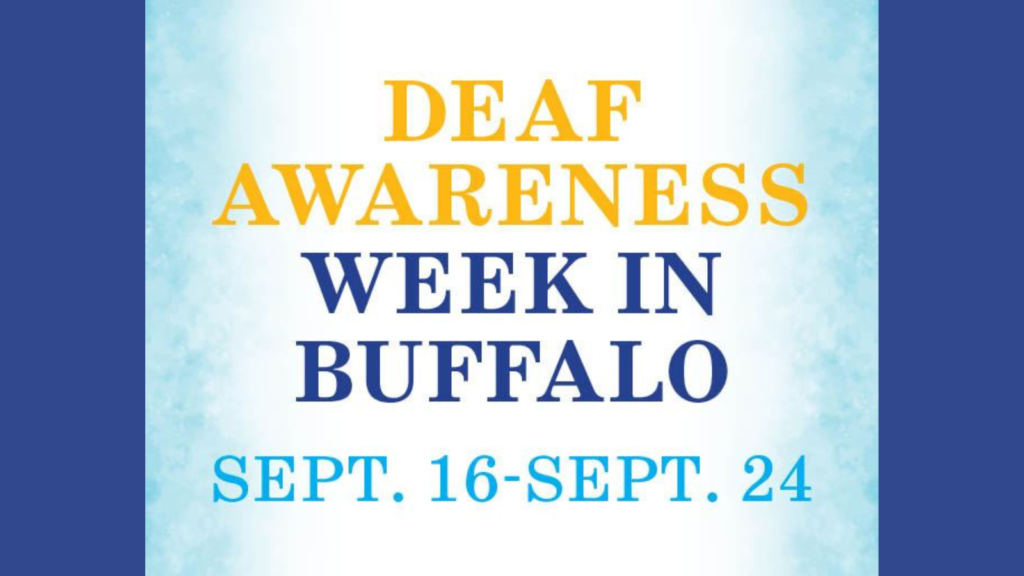 BUFFALO — Mayor Byron W. Brown and his Office of Diversity, Opportunity, and Inclusion, joined by representatives from Deaf Access Services, today proclaimed the week of September 16th through September 24th as "Deaf Awareness Week" in the City of Buffalo. At a special flag-raising ceremony in recognition of Deaf Awareness Week, Mayor Brown shined a spotlight on the importance of Buffalo's Deaf community and highlighted his continued efforts to support programs and initiatives that make Buffalo an even more inclusive community.
Mayor Brown stated, "Every Buffalo resident deserves full access to all aspects of life in the city, and that includes the Deaf, Deaf-Blind, Hard of Hearing and Hearing Loss community. I want to thank our City's first ADA Advocate, Brittney Montgomery, for spearheading today's event as part of our City's continued effort to build a more inclusive and more just community."
Deaf Awareness week is an annual event that highlights Buffalo's Deaf community, with an aim to increase public awareness of Deaf issues, people and culture. Last spring, Mayor Brown appointed Brittney Montgomery as the City's first ADA Advocate as part of his continuing effort to build on programs that move Buffalo toward a more inclusive and just community. Last year, Mayor Brown further enhanced the City's American Sign Language (ASL) interpreter program, extending services beyond just the Buffalo Police Department to include sign language interpreting services at Mayoral or City Department press events.
"As the City's first ADA Advocate, I'm extremely honored to be the host of this year's Deaf Awareness Week Flag Raising in Buffalo, and I thank Mayor Brown for his continued support for the disabled community," stated ADA Advocate Brittney Montgomery, who was appointed by Mayor Brown in the spring of 2023. "The goal of Deaf Awareness Week is to spread awareness about the Deaf community, its language, its culture, our people and so much more. I invite everyone to take part in activities and learn more about our City's growing Deaf community."
Today, Mayor Brown invited the community to visit the lobby of Buffalo City Hall to view a special glass display featuring unique artifacts from Deaf Access Services about Deaf history. Deaf Access Services is one of our community's organizations that's at the forefront of advocating for Deaf individuals and those with hearing loss.
David Wantuck, Community Engagement Specialist from Deaf Access Services stated, "Deaf Access Services, a program of People Inc., is thrilled to partner with Mayor Brown and the City of Buffalo to recognize Deaf
Awareness Week and bring the community together for this special Flag raising ceremony. It is great to see all of the effort put forth towards the mutual goal of making Buffalo an accessible city for Deaf, hard of hearing, Deafblind, and hearing loss community members."
Additionally, on Friday, September 22nd, Mayor Brown directed the top of Buffalo City Hall to light up turquoise blue, yellow and dark blue in recognition of Deaf Awareness Week. The colors are symbolic; turquoise blue represents the deaf community and Sign Language, pride and unity; yellow represents the color of light, an enlightened spirit, life and "thriving in unison"; dark blue represents the earth, humanity and living in accordance with the planet. Deaf cultures all over the world recognize blue as representing deaf people. Mayor Brown also called for a citywide lighting as part of his BuffaloLIT lighting program.
Below is a list of other events planned for Deaf Awareness Week in Buffalo. All events are open to the public.
Sunday, September 17th
Seneca Zoo Deaf Day at Rochester Zoo/10 AM-5 PM
Monday, September 18th
St. Mary's School for the Deaf Flag Raising Ceremony /Time to be determined.
Wednesday, September 20th
St. Mary's School for the Deaf Alumni Fundraiser/Blaze Pizza/ 1561 Niagara Falls Blvd 5 PM-8 PM
Thursday, September 21st
St. Mary's School for the Deaf Bingo Night /6:30 PM-8:30 PM
Saturday, September 23rd and 24th
ASL Interpreters at Aquarium of Niagara/All day. Both days.
Sunday, September 24
ASL Interpreters at Shea's 710 Theatre/The Color Purple/4:00 PM Show only.
---

All WNY is made possible thanks to coffee and sleep deprivation.
We appreciate your readership. We like money, too.