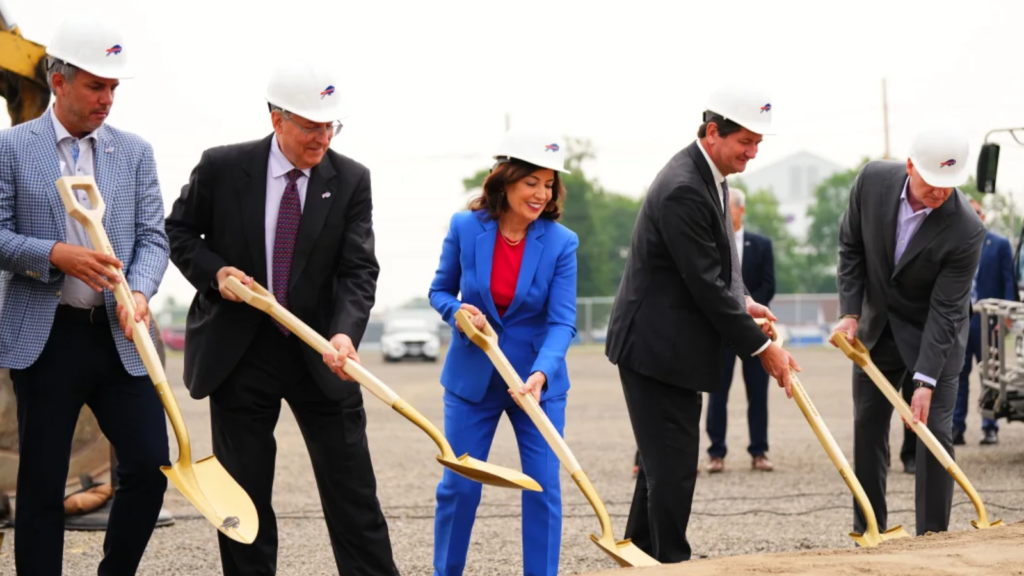 Governor Kathy Hochul, Buffalo Bills owner Terry Pegula, Erie County Executive Mark Poloncarz, and NFL Commissioner Roger Goodell today announced the start of construction on the Bills' new, state-of-the-art $1.54 billion stadium in Orchard Park. The new 60,000-seat facility, designed by the Bills in conjunction with Legends and the architectural firm Populous, marks the largest economic development project in Western New York history with an estimated 30-year economic impact of $1.6 billion and the creation of 10,000 union construction jobs. Construction on the new stadium is expected to be complete in 2026. Project renderings can be viewed here.
"As a native Buffalonian and a life-long Bills fan, I know how much this team means to this city and region as a whole," Governor Hochul said. "As we break ground on a beautiful new stadium, we're celebrating a new era for this region and for tens of thousands of New Yorkers who stand to benefit. With this project, the Bills — and New York State — are making a lasting commitment to the people of Western New York."
Bills Owner Terry Pegula said, "Congratulations, Bills fans. We all know the Bills are the only team that actually physically plays in the State of New York, and we're very proud of that. The stadium we will build will not only be a new home for our players and coaches, but also for our fans. This stadium is a public, private, NFL, and I call it, a fan partnership."
Erie County Executive Mark Poloncarz said, "Today is the culmination of years of work. The discussions leading to what we are doing here today — breaking ground for the construction of a new stadium — actually began many years ago. I'm thankful for the strong and committed partners who were at the table during negotiations. Thank you to Governor Hochul and her team from NYS. Thank you also to Terry and Kim Pegula, the entire Bills organization, and the NFL for your commitment to our community and ensuring a fair deal for all. Today marks the end of one chapter in this story, and the beginning of another. History is being made, and the future is now being placed in the hands of the men and women of our local building trades. Take pride in your work, and know that YOU built the home of the Bills. The next generation is here and now, and it's ready to roll with Josh Allen aiming to bring Buffalo a championship in our new, state-of-the-art stadium on this very spot. I am proud to be a part of the team that's paving the way for that, and on behalf of all Erie County thank you to all and Go Bills!"
NFL Commissioner Roger Goodell said, "As a Western New York kid, it gives me a great deal of pride to be here today. I've been to a lot of groundbreaking ceremonies in my time at the NFL. But none of them are more meaningful than being here today. This is an extraordinary community. They deserve an extraordinary stadium, and you're going to get it. And I think as Western New Yorkers, we'll all be proud. It'll be not only a great stadium, but filled with incredible fans."
The new, open-air stadium will be built across from the existing Highmark Stadium, which was built in 1973, and includes several major improvements over the existing stadium facility. It will add weather control features, including extensive radiant heating and a canopy that covers 65 percent of seats, to provide protection from inclement weather. The exterior of the stadium will also include enhanced fan experience gathering sites to be utilized by fans, spectators, and members of the surrounding community.
The stadium project is projected to create 10,000 construction jobs and will be built with union labor in accordance with a Project Labor Agreement (PLA) agreed to by the Buffalo Building Trades Council.
In 2022, Governor Hochul announced the historic public-private stadium agreement, which includes a $600 million investment by New York State that will be recouped through taxes and economic activity that the team generates. Under the agreement, the Bills and NFL will invest $690 million for the stadium's construction and Erie County will contribute $250 million.
The Buffalo Bills franchise is a proven economic driver for the Buffalo region and the state. The Bills currently generate $27 million annually in direct income, sales and use taxes for New York State, Erie County and Buffalo. An economic analysis by Empire State Development and AECOM found that, over the 30-year lease period of the new stadium, revenues are expected to grow significantly and will cumulatively amount to more than $1.6 billion in economic impact. Furthermore, the study found that the stadium would have a regional economic impact of more than $385 million annually as fans and spectators from across New York, the United States, and Canada patronize local businesses.
Buffalo Mayor Byron W. Brown said, "The Bills remaining in Buffalo and Erie County is great for our community. The Buffalo Bills are a major part of the culture and economy here in the City of Good Neighbors and across the region. The new state-of-the-art Buffalo Bills Football Stadium will be a great addition to our region and will help boost our team spirit. Go Bills!"
Chairman of the Erie County Stadium Corporation Robert Duffy said, "I am thrilled to witness this monumental moment in the history of our region. The ground-breaking ceremony for the new Buffalo Bills stadium marks a significant milestone, representing not only the growth and development of our beloved team but also the economic vitality it will bring to our communities. This state-of-the-art facility will serve as a beacon of sportsmanship, uniting fans from near and far, and fostering a sense of pride in our region. We anticipate a surge in tourism, increased job opportunities, and a vibrant local economy as this iconic stadium becomes a gathering place for thrilling moments and cherished memories. Greater Rochester Chamber of Commerce is proud to stand alongside our partners, the Buffalo Bills, as we embark on this extraordinary journey together."
President of the Buffalo Building Trades Council Paul Brown said, "While we may not play on the field, the hardworking men and women of the Buffalo Building Trades Council are proud to be part of the team making this exciting project a reality. Our union families will point with pride and tell their children and grandchildren that their skilled labor not only helped build a state-of-the-art stadium, but also helped build a stronger and more united community."
---

All WNY is made possible thanks to coffee and sleep deprivation.
We appreciate your readership. We like money, too.