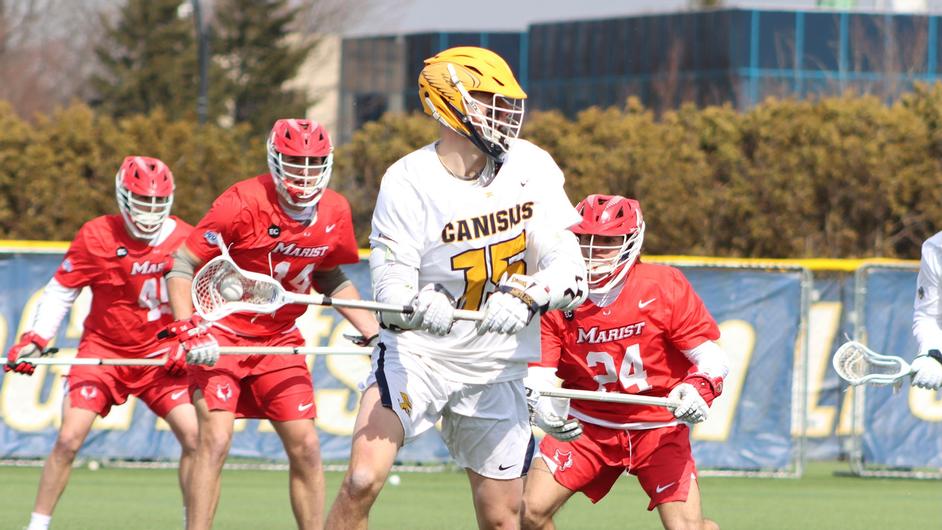 Redshirt sophomore Colin Kelly notched a career-high seven goals, one shy of the program record, as Canisius came back to defeat Marist, 18-16, in Metro Atlantic Athletic Conference men's lacrosse action Saturday afternoon at the Demske Sports Complex.

Along with Kelly's seven goals, junior attackman Keegan Kozack added in a hat trick and two assists for the Golden Griffins (2-6, 1-1 MAAC) while reigning MAAC Rookie of the Week Kevin Carney and Patrick Mitchell each notched two tallies of their own. In net, sophomore Tommy Kunz made 15 saves, one shy of his season-high 16 he last set against Quinnipiac on March 11.

The Red Foxes (2-5, 1-1 MAAC) used a multitude of goal scorers as 10 different players recorded at least one tally. Matt Fermo picked up a game-high 12 ground balls while Kyle Stofko caused two turnovers. Noble Smith notched seven saves in 30 minutes of action during the first half, while Daniel O'Meara totaled four stops after entering the game at the start of the second half.

Trailing 5-1 with 2:13 left in the first quarter, the Griffs came alive to end the frame, scoring three unanswered goals to cut the deficit to 5-4. During the spurt, senior Paul Medrick stamped his first ever career goal off an assist from freshman Alexis Simard.
---