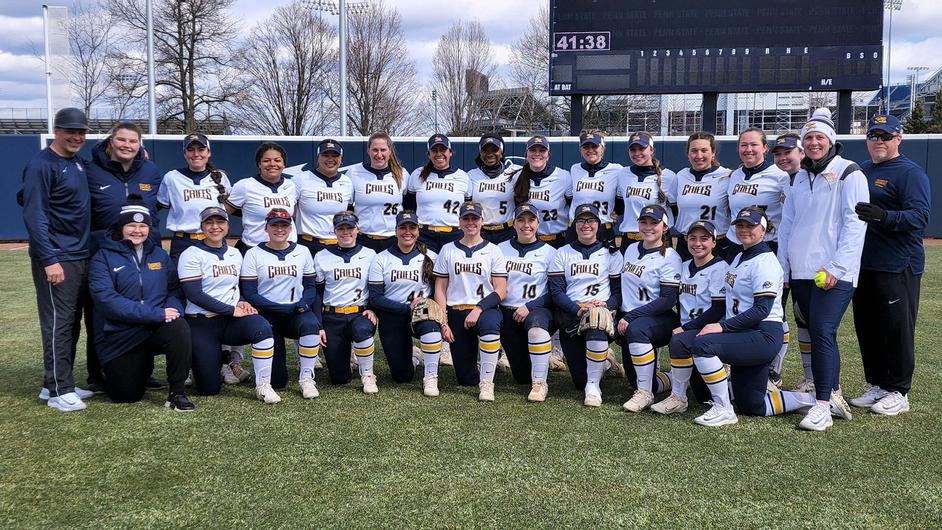 Junior Megan Giese tossed a complete game shutout to help list Canisius to a 2-0 win over Cornell Saturday. In the Golden Griffins second game of the day, they would fall, 7-0, to hosts Penn State in collegiate softball action from the Penn State Invitational in University Park, Pa.
Game 1 Recap
Cornell threatened to take an early lead in the first following a pair of back-to-back walks to load the bases.
Giese was able to escape the jam without any damage by striking out Reagan London, the hurler's third of the inning.
Canisius got on the scoreboard in the home half of the second after senior Tiara Johnson worked a two-out walk.
In the next at bat, junior Sydney Costan clubbed a two-run shot on the first pitch she saw, putting the Griffs up a pair.
Sophomore Saige Alfaro and junior Christie McGee-Ross followed with back-to-back singles, but Canisius was unable to put another run across.
That was all the offense Giese would need in the game though, as the righty finished the contest with eight strikeouts in her second complete game shutout of the season.
Game 2 Recap
Penn State took an early 2-0 lead off a home run from Katelyn Morrison during the bottom of the first, before tacking on another run, courtesy of Liliana Jones in the bottom of the second, to open a 3-0 lead after two innings of action.

Later in the contest, Penn State would add three more runs in the bottom of the fourth to expand their lead to 6-0.
In the circle, Penn State's Bailey Parshall would keep the Griffs hitless until the top of the sixth inning, when Nicole Rivait lined a ball into left center to break up her no-hit bid. The Nittany Lions would add one more run in the bottom of the sixth to secure the 7-0 win.

Game Notes
• Giese struck out a season-high eight batters in the victory.
• Saige Alfaro had her fifth multi-hit game of the season against Cornell.
• Costan slugged her third career home run in the win
Up Next
• Canisius returns to Western New York where it will host Syracuse in the team's home opener March 22. First pitch of the first game is scheduled for 2 p.m. at the Demske Sports Complex with both contests of the twinbill being broadcasted live on ESPN+.
For complete coverage of Canisius softball, please follow @griffssoftball on Instagram and Twitter.