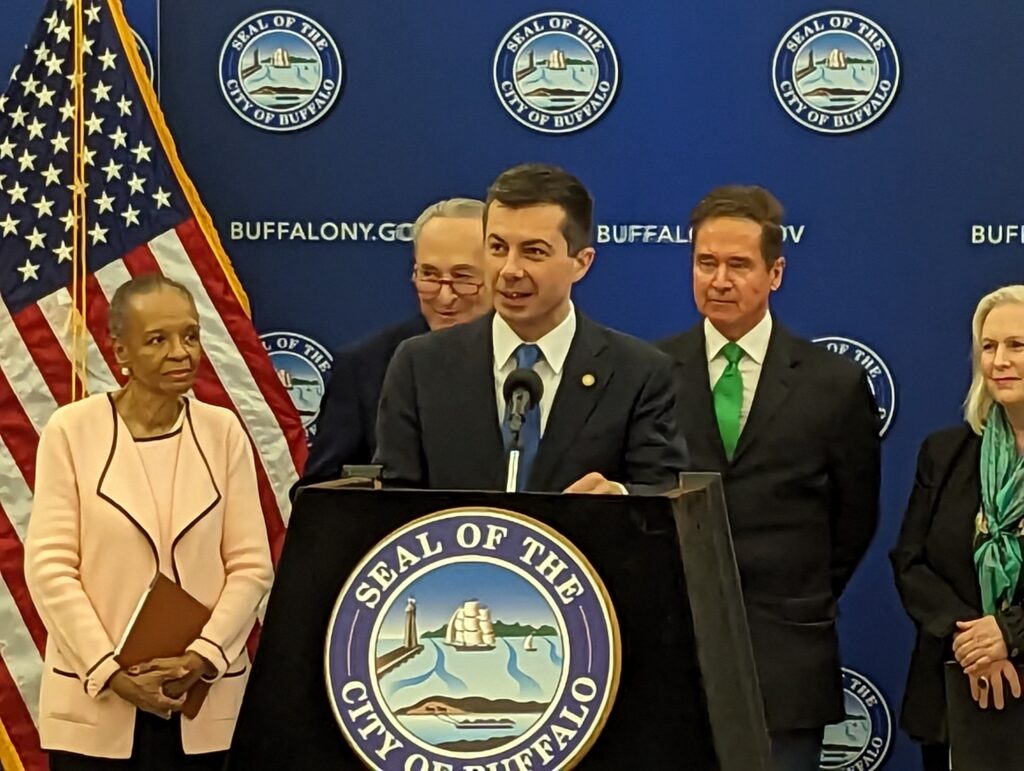 U.S. Secretary of Transportation Pete Buttigieg joined Congressman Brian Higgins (NY-26), Governor Kathy Hochul, U.S. Senate Majority Leader Chuck Schumer, Senator Kirsten Gillibrand, Buffalo Mayor Byron Brown, the Restore Our Community Coalition (ROCC), as well as other community members and local leaders at the Buffalo Museum of Science to celebrate the $55 million Reconnecting Communities Program grant to Buffalo, funded by the Bipartisan Infrastructure Law.
U.S. Transportation Secretary Pete Buttigieg said, "Transportation should connect, not divide, people and communities. We are proud to announce the first grantees of our Reconnecting Communities Program, which will unite neighborhoods, ensure the future is better than the past, and provide Americans with better access to jobs, health care, groceries and other essentials."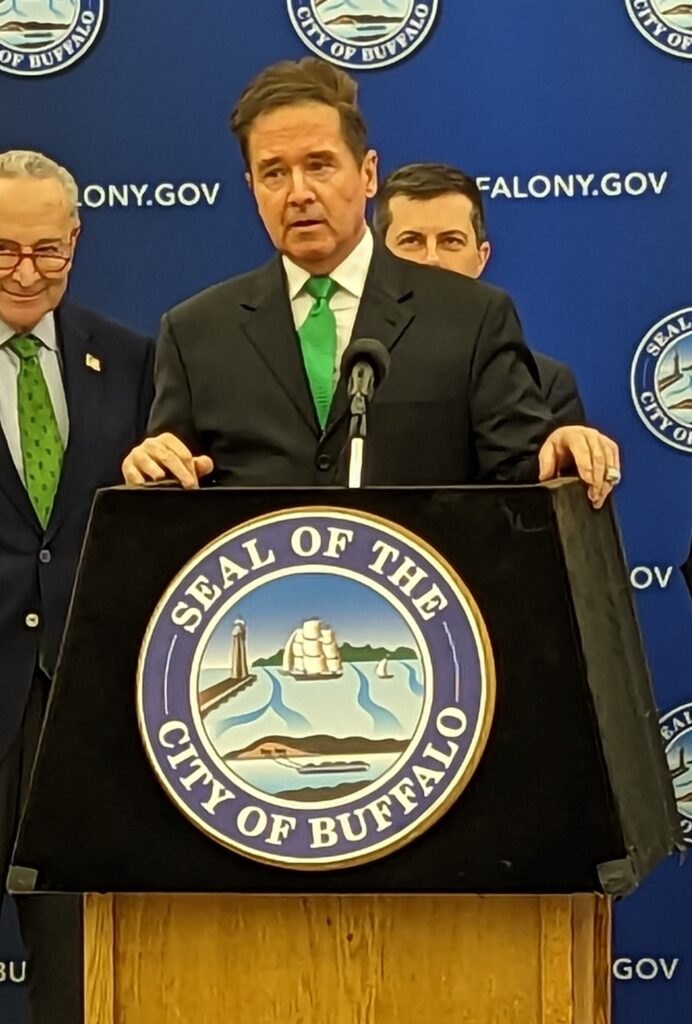 Congressman Brian Higgins said, "Frederick Law Olmsted believed in the healing and restorative power of urban greenspaces. His vision came to life through a historic park system that connected Buffalo's neighborhoods through parkways and landscaped circles. But it was torn apart with the construction of the Kensington Expressway, which destroyed Humboldt Parkway and disconnected surrounding neighborhoods."
Construction of the Kensington Expressway in the 1960s required the demolition of more than 600 residential properties, the removal of a landscaped median and created a barrier to community connectivity. The construction of the expressway resulted in substantial residential displacement with the primarily Black population within Buffalo confined to the East Side, isolated with low access to jobs, grocery stores, and banks.   
The $55 million grant for the Kensington Parkway Project will help the New York State DOT cap approximately 4,100 feet of the Expressway to provide continuous greenspace and reestablish community character and cohesiveness. The new tunnel will reconnect several east-west roads that were severed by the freeway's construction and improve east-west connections with safe crossing options.
"Buffalo neighborhoods have been torn apart by the Kensington Expressway for decades, and this $55 million investment from the Reconnecting Communities Program will help jumpstart the effort to reconnect the Humboldt Parkway community. This funding will play a key role in laying the foundation for a more equitable future here in Buffalo, which is why I was excited to bring Transportation Secretary Buttigieg to Buffalo and show him first hand exactly how the investment will help bridge divides and reunite the community," said Senator Schumer. "Our infrastructure should connect, not divide our communities – That's why I fought so hard to create and fund the Reconnecting Communities program, and why I later personally called Transportation Secretary Buttigieg to secure this major federal funding. The transformation of the divisive Kensington Expressway will be a game changer for Buffalo and will serve as a model for equity across the nation."
"I stood with local leaders and advocates every step of the way to help secure this historic federal investment and I'm honored to host Secretary Buttigieg in Buffalo today to hear directly from community members about the impact this project will have," said Senator Gillibrand. "I'm committed to working closely with the secretary and the Biden administration to see the revitalization of the Kensington Expressway through and ensure that Buffalo continues to get the federal resources it needs to thrive."
Governor Kathy Hochul said, "The Kensington Expressway has divided neighborhoods in my hometown of Buffalo for many generations, and thanks to new federal funding which builds on our State investment, we can advance our work to right these past wrongs. I thank President Biden for his commitment to rebuilding our infrastructure and welcome Secretary Buttigieg to Buffalo to support this transformational project to reconnect the East Buffalo community and create new opportunities."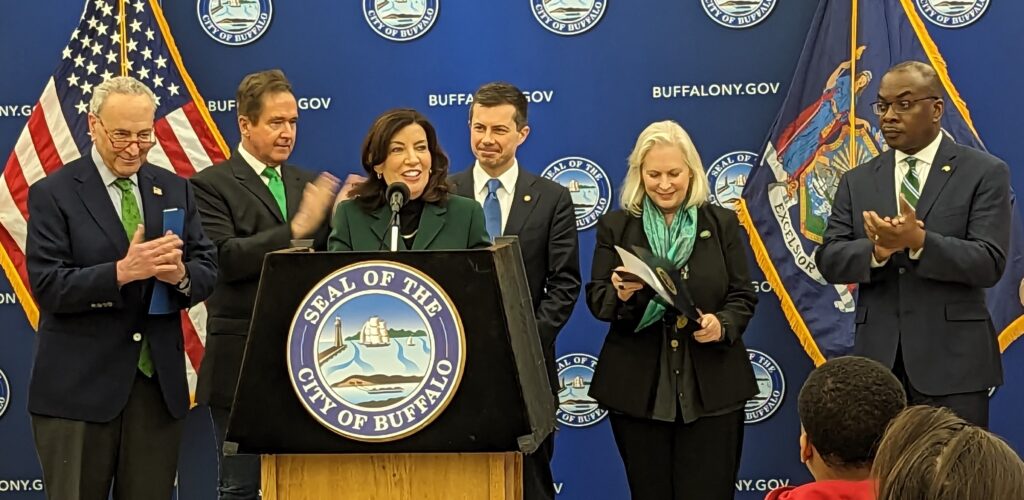 Construction of the Kensington Expressway — Route 33 — began in the 1950s. The below-grade highway replaced the grand, tree-lined Humboldt Parkway, which connected Martin Luther King Jr. Park, and surrounding neighborhoods, to other parks within the historic Frederick Law Olmsted Park System. As a result, it has stifled economic growth and caused generational damage in neighborhoods on the East Side of Buffalo.
Funded by the Bipartisan Infrastructure Law, the $55 million Reconnecting Communities grant makes a significant contribution to the $1 billion committed by New York State Governor Hochul to transforming the Kensington Expressway. The current below-grade roadway will be replaced by a six-lane tunnel that extends from under Dodge Street to Sydney Street. Above ground, Humboldt Parkway will be redesigned to accommodate cars, cyclists, and pedestrians. It will include a tree-lined, walkable linear park in the median with Victorian gardens, sidewalks, and benches connecting to Martin Luther King Jr. Park.
During his visit, Secretary Buttigieg participated in a roundtable discussion, moderated by USDOT Assistant Secretary Christopher Coes, with local elected officials, small business owners, community organizations, and neighbors including Governor Hochul, Congressman Higgins, Mayor Brown, New York State Assembly Majority Leader Crystal Peoples-Stokes, the Buffalo Museum of Science, Restore Our Community Coalition (ROCC), Em Tea Coffee Cup Café, Black Chamber of Commerce, Citizens' Alliance Inc., Buffalo Olmsted Parks Conservatory, and the Northampton Block club.
Higgins, Schumer, and Gillibrand supported the Reconnecting Communities Program as part of the historic Bipartisan Infrastructure Law, which was signed into law by President Joe Biden in November 2021. Recognizing the economic and social implications of transportation infrastructure that has long divided communities, the program will invest $1 billion in projects that will correct these historic wrongs and reconnect neighborhoods in towns and cities across the country through 2026. In fiscal year 2022, the U.S. Department of Transportation (USDOT) awarded $185 million to 45 projects nationwide. The Kensington Expressway Project represents the largest grant awarded in the initial round of funding.