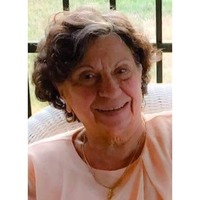 Lorraine Theresa (Conti) Pealer, 87, of Niagara Falls, NY, passed away peacefully on January 29, 2023 at Niagara Falls Memorial Medical Center after a long and courageous battle with cancer. Born on February 17, 1935 in Niagara Falls, NY, she was the daughter of the late John (Giovanni Poggiani) and Josephine (LaVerde) Conti.
Lorraine was raised on the 500 block of 19th Street, which at the time was the heart of Niagara's Little Italy, instilling in her a lifelong pride in her Italian heritage. As a child, Lorraine helped care for her Uncle Samuel LaVerde's ponies, providing joy to a generation of neighborhood children. Lorraine was a graduate of Niagara Falls High School, and later Bryant & Stratton College. In the 1950s, Lorraine Worked at McCrory's on Falls Street, at the New York Style Shop on Pine Avenue, and later at Beir's Department Store on Main Street. In the 1960s, she was employed at the Globar Division of Carborundum. Following the completion of studies at Bryant and Stratton and her subsequent NASD licensing in the 1970s, Lorraine began a career in insurance and real estate, working at several agencies in the Niagara area, most recently, Stevens Insurance in Niagara Falls and Lewiston for 10 years until her retirement in 2010. In 1992, she married Richard E. 'Dick' Pealer. Mr. Pealer predeceased her on October 27, 2020.
Lorraine was a longtime member of Saint George Orthodox Church and their Ladies Society and was active in the Professional and Business Women's Organization as well as other local civic organizations. In her leisure time, Lorraine enjoyed boating on the Atlantic coast and traveling in Europe, the Americas, and the US, and her hospitality was legendary among her family and friends. Known affectionately by all as Aunt Lorraine, she will be remembered most for her sense of humor, and her deep devotion to her family.
Lorraine is survived by her children, Dawn (James) Marasco, Craig Mokhiber, and Fr. Justin 'Todd' Mokhiber; her step-children, Jay (Sharon) Pealer and Lisa (Michael) Kinstler; 4 grandchildren, and several nieces and nephews. In addition to her parents and her husband of 28 years, Lorraine was predeceased by her children, Keith, Mitchell and Kevin Mokhiber, her step-son, William Pealer, and her siblings, John (late Joan) Conti, James (late Dolly) Conti, and Lawrence Conti.
Visitation will be on Thursday, February 2 from 4 – 8 PM at Saint George Orthodox Church, 1073 Saunders Settlement Rd, Niagara Falls, NY 14305, where Trisagion prayers will be offered at 7:45 PM. Lorraine's funeral services will be held on Friday at 10:00 AM in Saint George Orthodox Church, 1073 Saunders Settlement Rd, Niagara Falls, NY 14305. Interment in St. Joseph Cemetery, Niagara Falls, NY. In lieu of flowers, memorial offerings may be made to Saint George Orthodox Church. Visit mjcoluccifuneralchapel.com for online condolences.
---

All WNY is made possible thanks to coffee and sleep deprivation.
We appreciate your readership. We like money, too.