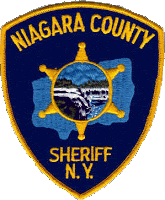 LOCKPORT — A 35-year-old Amherst man has been charged with murder following a homicide that occurred in the Town of Wheatfield on Tuesday.
According to Niagara County Sheriff Michael Filicetti, Leroy Cheek was arrested following an investigation. He was charged with one count of Murder 2nd, a class A-I felony and transported to the Niagara County Jail, where he is being held pending an arraignment.
The Sheriff's Office has identified the victim as 25-year-old Jesse Gonzalez Miranda of West Seneca.