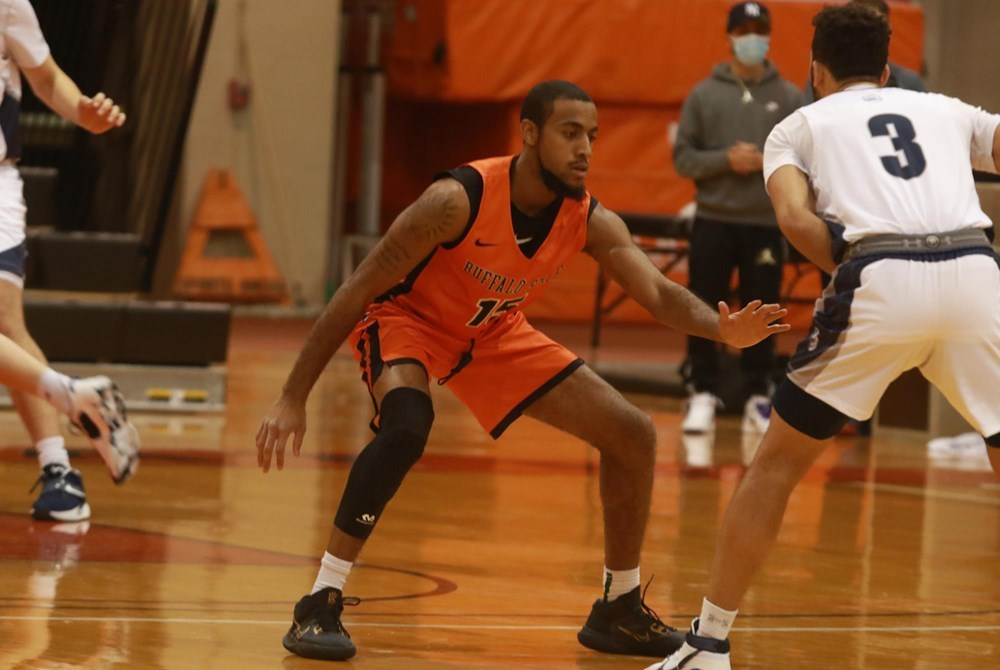 BUFFALO – Oswego earned the regular-season sweep of the Buffalo State men's basketball team, as the Bengals fell to the league co-leaders by a 109-72 score, in SUNYAC basketball action Tuesday afternoon.

THE BASICS
FINAL SCORE: Oswego– 109, Buffalo State – 72
LOCATION: Buffalo State Sports Arena – Buffalo, NY
RECORDS: Buffalo State (1-10, 0-4 SUNYAC), Oswego (11-1, 5-0)
INSIDE THE BENGAL BOX SCORE
DaRon Hughey (Hartford, Conn./The Masters School) led Buffalo State with 16 points, shooting 7-of-11 from the field.
Marquell Boutwell (Liverpool, N.Y./Nottingham) tallied his second double-double of the season with 13 points and 11 rebounds. He added two blocked shots and two assists.
Aaron Davis (Beacon, N.Y./Beacon) added 10 points and led the team with three assists.
The Bengals shot 45.5 percent (30-of-66) from the field in the contest, the highest total against a Division-III opponent this season.
HOW IT HAPPENED
Oswego led wire-to-wire in this game, converting on back-to-back 3-pointers to begin the contest.
Buffalo State responded early, as a Robert Richards (Williamsville, N.Y./Williamsville South) steal and a Philbert Weekes (Brooklyn, N.Y./Lafayette) put-back off of Richards' missed shot tied the contest at eight at the 15:19 mark of the opening half.
Up one, Oswego stretched its lead into double-digits with a 15-3 run over a four-minute span, leading by 13 (26-13).
The Lakers made eight three and converted on 54.2 percent (19-of-35) of its shots in the first half, as they held a 54-32 halftime lead.
The teams traded baskets for the first five minutes of the second half, with Oswego maintaining the 22-point advantage.
The Lakers stretched its lead further with an 8-0 run in a span of 3:29, taking a commanding 82-50 lead.
The Lakers would lead by as many as 40 points late, before the final deficit settled at 37 after a Jeremiah Miller (Clinton, Md./Grace Brethren Christian) 3-pointer.

FOR THE FOES
Christian Simmons led all scorers with 22 points off the bench, converting 9-of-11 shots from the field and adding eight rebounds.
Devin Green hit five 3-pointers en route to a 17-point, five-rebound, five-assist, five-steal performance.
Ahkee Anderson and Jamal Achille also finished in double-figures in scoring, with 14 and 12 points, respectively.
Oswego shot 52.8 percent (38-of-72) from the field, hitting 16 3-pointers.
UP NEXT
The Bengals take the road later this week, visiting New Paltz in a rare Thursday conference matchup beginning at 7:30 p.m.
---

All WNY is made possible thanks to coffee and sleep deprivation.
We appreciate your readership. We like money, too.