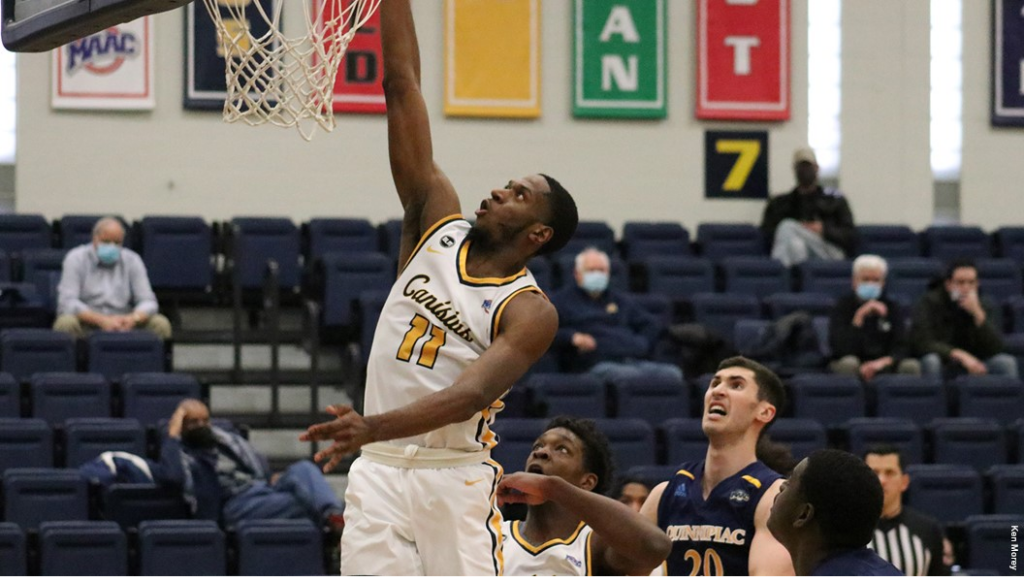 BUFFALO — The trio of Armon Harried, Ahamadou Fofana and Jordan Henderson combined to score 57points to help lead Canisius to a 79-67 victory over Quinnipiac in MAAC men's basketball action Tuesday at the Koessler Athletic Center.

Harried led all scorers with 21 points while Fofana and Henderson chipped in 18 points apiece to pace a Golden Griffin attack that shot 48.3 percent (29-of-60) from the floor and 81.3 percent (13-of-16) at the charity stripe for the contest.

The win, Canisius' third straight, improves the Griffs to 5-9 overall and 1-2 in MAAC play, while Quinnipiac fell to 7-6 overall and 2-3 in league action with its second-straight loss.

GAME RECAP
Trailing 6-5 early in the contest, a layup by graduate student Scott Hitchon ignited a 20-6 run for the Griffs that lasted more than seven minutes. In that run, which saw the Blue and Gold knock down 9-of-12 field-goal attempts, Harried, Fofana and Henderson accounted for 14 of Canisius points as the home team jumped out to a 25-12 lead midway through the first half.

Quinnipiac responded to the Canisius spurt by scoring seven of the game's next nine points to pull within eight at 27-19, but Canisius quickly regained control of the contest by scoring 11 of the final 16 points before halftime, capped by a 3-pointer from Henderson at the buzzer, to take a 38-24 lead into the locker room.

The Griffs shot just under 50 percent from the floor in the opening 20 minutes of play (16-of-33), including 6-of-17 (.353) from beyond the arc. The Bobcats, meanwhile, were limited to just 29.4 percent shooting in the first half (10-of-34), punctuated by a 1-for-15 effort (.067) from 3-point land.

Out of the intermission, the Griffs kept the Bobcats at arm's length until the final horn, as Canisius' lead never dipped below 11 points in the final 20 minutes of game action. Harried, Fofana and Henderson combined to score 33 of the Griffs' 41 second-half points, and the Griffs' defense held Quinnipiac's high-powered 3-point attack to just two makes from behind the arc after halftime.

Harried added seven boards and matched a career-high with two blocks to his final stat line, as he scored 20-or more points in a game for the fifth time this season. Fofana grabbed a career-high nine rebounds in the win to go with five assists, while Henderson was good for five boards, three assists and two steals in the game. Junior Jacco Fritz came off the bench and scored nine points in his first game action since Dec. 8, after being out with an ankle injury. Hitchon grabbed six rebounds as well in the winning effort for the Blue and Gold, as Canisius out-rebounded Quinnipiac by a 40-35 clip for the contest.

Jamil Riggins tallied 15 points and Brendan McGuire added 14 for the Bobcats, who were limited to just 37.3 percent (25-of-67) shooting for the contest, which included a 3-for-23 (.130) effort from 3-point range.

Head Coach Reggie Witherspoon's Postgame Comments
"Coming into the game, I did not think there would be as many turnovers as there were, and we ended up with 13, so we need to be better there. However, I'm extremely proud of how our guys came out and played with energy and passion today. Our guys were locked in from the start and everyone was very mindful of our scouting report throughout the game."

"Quinnipiac is dangerous because they can really shoot the three. We wanted to play them before they could even catch the ball, because if you give them a little room, they'll hit shots on you. We were able to use our length to get out on them and make it difficult to get shots in any kind of rhythm."

"I don't think people realize what type of challenge it is to get back on the floor after being off for 20 days. We were obviously able to get some work in as a team, but we were without a full team in practice until just the other day and we couldn't go full court because we didn't want to wear the guys out. Give the guys credit, though, they came out and moved the basketball and we found a good rhythm offensively. [Quinnipiac] switched to man defense and then went back to zone, but we stayed poised offensively and kept following the plan. Our guys responded and were ready to go."

Game Notes
• Canisius has defeated Quinnipiac in three-straight meetings and now lead the all-time series 12-6.
• The win improved Canisius to 5-3 at home this season. Last year, the Griffs went 3-1 in four home contests in the COVID-19 shortened schedule.
• The Griffs improved to 63-30 in six seasons under head coach Reggie Witherspoon when scoring 70-or more points in a game.
• Harried has scored 18-or more points in five of the team's last nine contests.
• The 18 points for Fofana are a new career high for the senior guard. He also set a new career best with seven makes from the floor on Tuesday, and matched a career-high with three 3-point field goals.

Up Next
Canisius returns to action Thursday when it travels to Lewiston, N.Y., to square off against Battle of the Bridge rival Niagara. Tip off for the MAAC matchup between the Griffs and Purple Eagles is slated for 7 p.m. at the Gallagher Center. The game will air live on ESPN+.
For complete coverage of Canisius men's basketball, please follow the Griffs on social media at @Griffs_MBB on Twitter and Instagram.
---