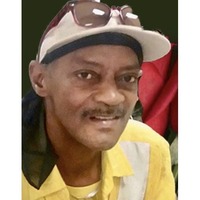 James E. 'Pnut' Elder, 62, of Niagara Falls, NY, passed away on January 1, 2022 at Millard Filmore Suburban Hospital. Born in Niagara Falls, NY, he was the son of Jerlene (Tyson) Jackson and the late James Elder.
Pnut attended local schools. He proudly served in the United States Army from 1977 until his honorable discharge in 1981. Pnut enjoyed fishing, cooking and gardening. He was also a talented artist and enjoyed music. He will be remembered most for his positive personality, and his enjoyment of a good conversation. Above all, he cherished the time spent with family and friends.
In addition to his mother, James is survived by his children, Christopher Wallace, Darren Elder, and James Elder; his grandchildren, Dontaye Wallace and Mia Wallace; his fiancé, Christine Merchant, and her children, Patty, Jen and Eddie Merchant, and her grandson, Devin Merchant; his siblings, Ophelia (Clyde) Wallace, Laura King, Ernestine (late Patrick) Gayle, Annette Ralands, Carolyn (late Warren) McDougal, Evelyn (Stan) Moore, Valerie Jackson, Lisa 'Angel' Black, Edgar 'Joe' King, Tonéy (Shetice) Jackson, JoJo Elder, Stevie Eder, Darlene Elder, and Dorine Elder; his sister in love Fekela (Rocky) Cox as well as a host of aunts, uncles, nieces, nephews and cousins. He was predeceased by his siblings, Martha (Kevin) McDougal, Barbara (late William) Martin, Charlie King, and Robert Earl King.
Visitation will be held on Friday from 10 – 11 AM at Potter's House Christian Community Church, 723 7th St, Niagara Falls, NY 14301 where funeral services will begin at 11 AM. Interment in Riverdale Cemetery, Lewiston, NY. Arrangements by M.J. Colucci & Son Niagara Funeral Chapel. Visit mjcoluccifuneralchapel.com for online condolences.
---

All WNY is made possible thanks to coffee and sleep deprivation.
Buy us a cup? (of coffee, we can handle the sleep deprivation ourselves)