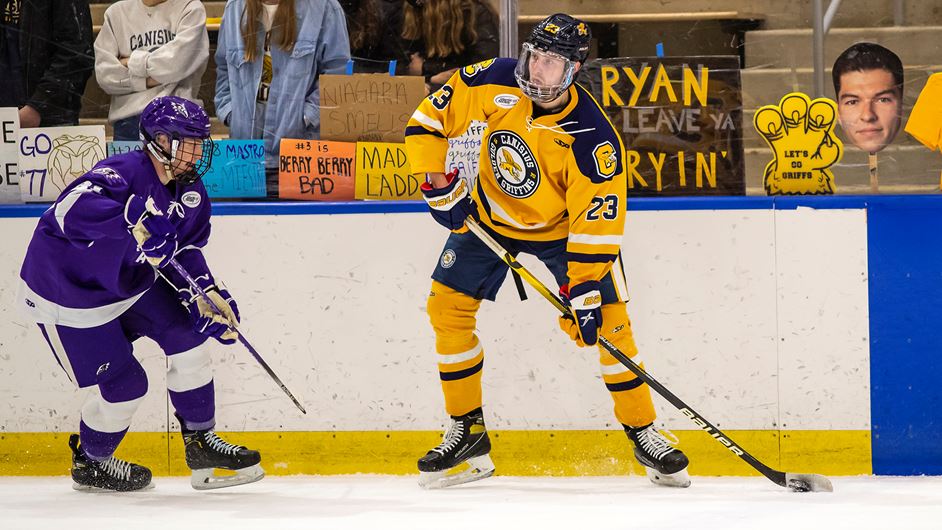 Games 20-21
Canisius (9-8-2, 6-5-1 AHA) at Army (7-8-3, 5-4-2 AHA)
Dates: Friday, Jan. 7 | Saturday, Jan. 8
Times: 7 p.m. | 4 p.m.
Location: West Point, N.Y. | Tate Rink
Live Stats: Via goarmywestpoint.com
Stream: Flohockey.tv
Social Media: Twitter | Instagram
Game Notes: Canisius (PDF) | Army
 
1) Puck Drop
The Canisius hockey team returns to action for the first time in nearly a month when it travels to West Point for an Atlantic Hockey Association series at Army. Game one of the series between the Golden Griffins and Black Knights is slated for 7 p.m. puck drop at Tate Rink on Friday while the finale is scheduled for 4 p.m. on Saturday.
 
2) Series Notes
Canisius holds an all-time record of 30-30-6 against Army, highlighted by a 27-24-6 advantage over the Black Knights in the Division I era of the series. The schools have been evenly matched in recent meetings as the Griffs hold a slim 11-10-2 edge over the last 23 contests. Eight of the last 11 games have been decided by a single goal, including their lone matchup last season, a 4-3 victory for Canisius over the nationally-ranked Black Knights during the semifinals of the Atlantic Hockey Tournament. Senior foward J.D. Pogue scored the game-winning goal, while junior Jacob Barczewski finished with 26 saves.
 
3) A Roller Coaster Ride with the Man Advantage
It was feast or famine for the Griffs with the man advantage during the front half of the regular season. Canisius began the season just 3-of-26 (.120) on the power play over its first six games before posting a stretch of 8-of-21 (.380) over the next four games. That outburst was following by a two-game stint that saw the Griffs go just 1-for-11 (.090) before returning to form with a 6-of-16 (.380) rate over the next two games. Canisius ended the fall semester on the down side of things, however, going 0-for-21 (.000) with the man advantage during the last five games to finish out the first half of the season.
 
4) A Good Offense Versus a Good Defense
It will be a test of strengths this weekend as Canisius enters the matchup ranked second in Atlantic Hockey in scoring offense with a 3.58 goals per game average. Army, meanwhile, heads into the weekend ranked first on the circuit in scoring defense, averaging just 2.4 goals against per contest. Canisius has tallied four or more goals in six of its 12 conference games thus far while Army has surrendered three goals or less in eight of its 11 league matchups.
 
5) Up Next
Canisius returns to the road next weekend as it travels to Holy Cross for an Atlantic Hockey series. Puck drop for both games of the Jan. 14-15 series is slated for 7 p.m. at the Hart Center Arena in Worcester, Mass.
---