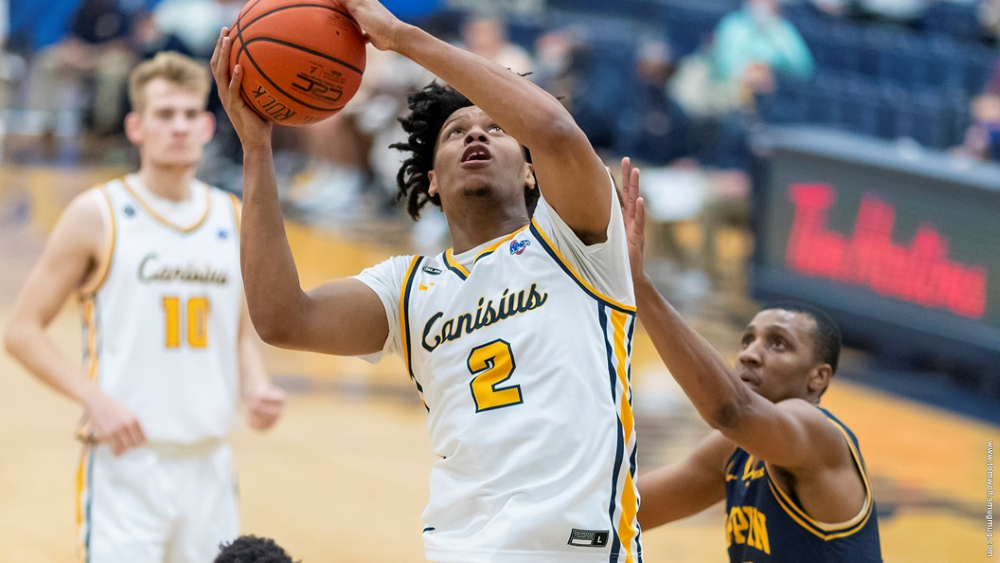 Northern Kentucky sophomore Marques Warrick scored a career-high 30 points and freshman guard Sam Vinson added 17 points and five rebounds to help lead the host Norse to a 75-62 victory over Canisius in non-league men's basketball action Wednesday night at BB&T Arena in Highland Heights, Ky.
 
Canisius senior Malek Green recorded his second double-double of the season off the bench with his team-high 23 points to go with 10 rebounds. Junior guard Armon Harried added 10 points to the effort as well, but it was not enough for the Blue and Gold, who fell to 2-8 (0-2 MAAC) with their fourth-straight loss. Northern Kentucky snapped a four-game losing streak of its own with the victory to improve to 3-5 on the season.
 
GAME RECAP
Northern Kentucky jumped out to an early 12-6 lead 5:03 into the contest, with the Griffs' first six points coming from senior George Maslennikov. A traditional 3-point play by junior Jacco Fritz and a 3-pointer by Green made it a five-point game at 19-14 with 11:18 left before halftime, but the Norse rattled off the game's next five points to push their lead to 24-14 with 9:34 remaining in the opening frame.
 
A bucket by Green with 1:09 left in the first half put Canisius down 33-28, but Northern Kentucky ended the first half with five-straight points, capped by a corner 3-ball by Vinson with five seconds left before the half ended. In the second half, Northern Kentucky pushed its margin to as many as 13 points at 47-34 with 11:37 left on the clock, but Canisius fought back and got within six points at 52-46 with 8:45 left thanks to a 12-5 run over the span of 2:56. In that run, which was capped by a 3-point make by Green, Canisius got five points from sophomore Siem Uijtendaal and four points from Harried.
 
Six points would be as close as the Griffs would get, however, as Northern Kentucky broke the game open moments later with a 19-4 run over the game's next 4:27. In that decisive run, Warrick accounted for 17 of his team's 19 points, capped off by a 3-pointer from the right win with 3:48 remaining in the contest.
 
Green ended the night by going 9-for-14 from the field, 2-for-3 from 3-point land and 3-for-3 from the free-throw line in 27:05 of action. Maslennikov scored a career-high eight points, while Fritz and Uijtendaal added five points, each. As a team, Canisius shot 41.7 percent from the field, 25 percent (4-for-16) from 3-point land and 66.7 percent from the free-throw line, while Northern Kentucky ended the contest by shooting 50.9 percent from the floor, with nine of the team's 27 field goals coming from 3-point land.
 
Head Coach Reggie Witherspoon's Postgame Comments
"We gave up too many second-chance points in the first half. And even though they didn't get a lot of offensive rebounds in the second half, we didn't get a lot of stops. We didn't really follow the plan based on their personnel. They had guys that were not good shooters and we went out and got shot-faked. And then they have guys that are good shooters, and we didn't close out hard enough. When you're not hitting shots, you have no margin for error in that aspect of the game."
 
"We never got in any sort of a flow on offense, and credit to their defense for that. We had to call plays to score. And when you have to call too many plays to score, it makes things tough. We were just stagnant, offensively."
 
"We're going to get in the gym tomorrow at Xavier, they're nice enough to let us get in there and get some work in, and then we'll head to Youngstown and watch some film. We are going to continue to work to get better."
 
GAME NOTES
• This was the first meeting between these two schools. Canisius has now played 209 different Division I schools in program history.
• Warrick is the first non-conference opponent to score 30-or more points against Canisius since Brown's Brandon Anderson scored 32 points in the 2019-20 season opener on Nov. 9, 2019.
• Green's double-double on Wednesday stands as the seventh of his career. His 23-point effort marks the seventh time in his career where he's recorded 20-plus points in a game.
• Henderson matched a career-high with five assists for the Griffs.
• Both Green and Henderson had a number of family and friends in the stands. Both players grew up in Cincinnati, Ohio, which is just 7.2 miles from Northern Kentucky's campus.
 
UP NEXT
Canisius will travel to play at Youngstown State on Saturday, Dec. 11, with tip-off set for 2 p.m. That game will be broadcast live on ESPN+.
 
For complete coverage of Canisius men's basketball, please follow the Griffs on social media at @Griffs_MBB on Twitter and Instagram.
---