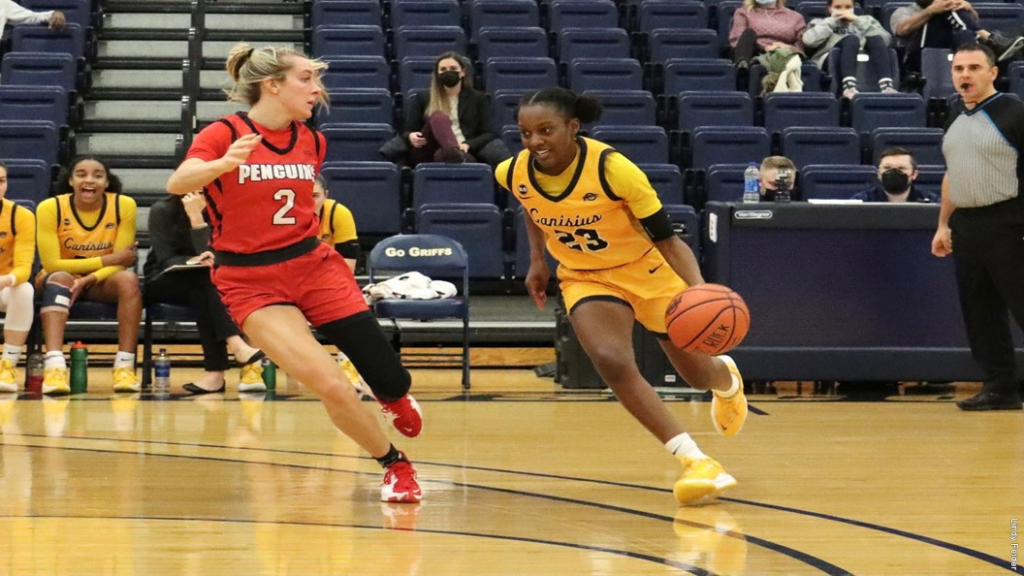 Canisius closed the final 2:22 of game action on a 16-6 run, but the Griffs' comeback fell short as Youngstown State prevailed, 69-66, at the Koessler Athletic Center in non-conference women's basketball action Wednesday night.

Senior guard Erika Joseph scored a career-high 16 points for Canisius, while sophomore guard Dani Haskell scored all 14 of her points in the second half.

Joseph went 6-for-8 from the floor for Canisius (2-6), which included a 4-for-5 mark from 3-point range. Haskell had five rebounds, three assists and a pair of steals to go along with her point total.

Youngstown State's Chelsea Olson netted a career-high 28 points, going 12-for-16 from the floor while adding four rebounds and pair of assists and steals. Jen Wendler chipped in 10 points for the Penguins (8-0).

GAME RECAP
Youngstown State took a 14-8 lead after the first quarter behind four made 3-pointers. Despite having four blocks in the first three minutes —three of which came in the game's opening minute — the Penguins dominated the offensive glass in the quarter, out-rebounding the Griffs 7-2.

Canisius scored five points in 27 seconds early in the second quarter, cutting Youngstown State's lead to 18-15. Shaunae Brown converted on a layup before Joseph hit a fast break 3-pointer following a Kayla Jackson steal.

The Griffs cut Youngstown State's lead to three points on three other occasions in the quarter, but the Penguins took an eight-point lead into the halftime break, 33-25, after converting on six of their final seven shot attempts.

Canisius opened the second half on a 14-2 run in just under three minutes, highlighted by Joseph's six points and Haskell's five points. Haskell gave the Griffs a 39-37 lead with 6:03 left after converting a three-point play.

Youngstown State responded with a scoring streak of its own by closing out the final 5:49 of the third quarter on a 13-4 run to take a 50-43 lead.

The Penguins opened their lead to 14 points in the fourth quarter, scoring the first seven points of the period. Youngstown State held Canisius scoreless during that span before Haskell converted on a pair of free throws.

Canisius cut into the Penguins lead late in the quarter as its went on an 11-2 run for 2:04, trimming the deficit to four, 65-61. A pair of free throws gave Youngstown State a six-point lead with 13 seconds left before Haskell made it a four-point contest, 67-63, after making two free throws with six seconds remaining.

Youngstown State's Lexi Wagner went 2-for-2 from the charity stripe with five seconds left to give the Penguins a six-point lead again before Haskell made a half-court shot at the buzzer to conclude the contest.

Head Coach Sahar Nusseibeh's Postgame Comments
"I'm proud of the fight our girls showed for 40 minutes. It was incredible to watch the fight, especially in the second half, from our competitors, our warriors. They were incredible in terms of their heart and fight.

"The focus of our players, it has nothing to do with the scoreboard. It's about winning the possession they are in and competing the possession they are in and they did just that. They turned off the scoreboard and just went at it offensively, defensively and we were met with a lot of success. I think we rattled Youngstown State. Youngstown State is an incredibly talented team. Unfortunately, to be outrebounded the way we were, I think we gave them a ton of offensive rebounds and second chance opportunities. We just got to do a better job capitalizing at the free-throw line. They struggled to defend us on the drive and we just got to knock [free throws] down."

Game Notes
• The Penguins won the 11th meeting between the two schools, taking a 6-5 lead in the all-time series. Youngstown State has now won the last five meetings against the Griffs.
• Junior guard Shaunae Brown made her 20th career start on Wednesday, while graduate student forward Ella Väätänen made her 10th career start with the Griffs.
• Väätänen recorded two blocks on Wednesday, her first multi-block performance since Dec. 8, 2019, against UMass Lowell when playing for LIU.
• Rhay Porter logged three blocks, a season-high for the freshman, and her third multi-block performance of the year.
• Canisius recorded six blocks as a team, establishing a new season-high. It also marks the most blocked shots for the Griffs since recording seven on Jan. 25, 2020, against Saint Peter's.
• Senior forward Kayla Jackson matched her career-high for steals (3) which was previously accomplished against UMass Lowell on Jan. 12, 2019, while attending UMBC.

Up Next
Canisius plays its final non-conference contest on Dec. 15 when it faces UAlbany. Tipoff between the Griffs and Great Danes is slated for 7 p.m. from the SEFCU Arena. Game action can be viewed on ESPN+.

For complete coverage of Canisius women's basketball, please follow the Griffs on social media at @GriffsWBB on Instagram and Twitter.
---