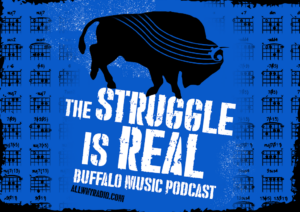 On Episode #53 of The Struggle is Real Buffalo Music Podcast, Ryan Gurnett is joined by first-time co-host (and wife) Kelly Gurnett. Ryan and Kelly talk about the effects of COVID-19, Smash Mouth's Steve Harwell eating two dozen eggs to help kids with cancer. Ryan also answers some listener questions and shares recent experiences he's had with The Rec Room and Music is Art's Music Industry Alliance. They also play new music by Not For Nothing, Cardiac Cassette, Bastardbastardbastard and Whitetails.
0:00 – INTRO
1:30 – But First: Corona Virus Talk and Ryan Further Examines Smash Mouth's Steve Harwell Eating Two Dozen Eggs for Kids with Cancer
9:10 – MUSIC: "Cardiac Cassette" by Cardiac Cassette
11:38 – PREVIOUS SHOWS, including Real Movement, Rockmaninov, Not For Nothing, Mind Chaser and Gunther's Radio
18:11 – MUSIC: "Home Schooled" by Not For Nothing
21:56 – Ryan talks about Music is Art's Music Industry Alliance
34:15 – MUSIC: "Spot of Shade" by Whitetails
37:24 – Ryan Takes the Gloves Off and Talks About The Rec Room
46:50 – MUSIC: "Diseased" by Bastardbastardbastard
49:22 – OUTRO: Ryan Answers Listener Questions
Not For Nothing, Whitetails, Bastardbastardbastard, Cardiac Cassette
But First
You can find us on Facebook at facebook.com/TheStruggleIsRealPodcast and on Twitter @SIRpodcastNY.
---

All WNY is made possible thanks to coffee and sleep deprivation.
Buy us a cup? (of coffee, we can handle the sleep deprivation ourselves)