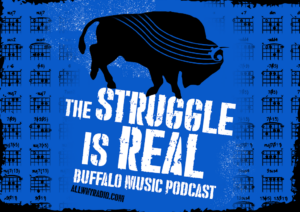 On episode #52 of The Struggle is Real Buffalo Music Podcast, Ryan Gurnett and Kevin Kauffman sit down with Chelsea O'Donnell (aka Stress Dolls). They discuss her Buffalo music history, her new single "Nashville", weird house shows and being a musician with a chronic illness. The gang also talks about bands not having press kits, Smashmouth headlining Cobblestone Live, Vanilla Ice, Steve Harwell an asshole (?) and play music from The Same Sun and Stress Dolls and play new music from Koko Neetz and TOOTH.
0:00 – Intro
1:13 – But First — Ryan Yells About Bands Not Having Press Kits
3:11 – But… Second? — Ryan Yells About Smashmouth and it turns into a conversation about Vanilla Ice.
8:20 – Steve Harwell won't eat 2 dozen eggs for dying children
11:28 – PREVIOUS SHOWS including a new R&B singer named Bubblegum
15:07 – MUSIC: "Never Part" by TOOTH
17:30 – INTERVIEW: Stress Dolls (Chelsea O'Donnell)
34:07 – MUSIC: "Nashville" by Stress Dolls
37:16 – GAME – Know Your Dolls!
41:15 – MUSIC: "Molecules" by Nashville
43:27 – UPCOMING SHOWS including Tortoise Forest
51:06 – MUSIC "Still Breathing" by The Same Sun
53:28 – OUTRO
You can find us on Facebook at facebook.com/TheStruggleIsRealPodcast and on Twitter @SIRpodcastNY.
---

All WNY is made possible thanks to coffee and sleep deprivation.
Buy us a cup? (of coffee, we can handle the sleep deprivation ourselves)