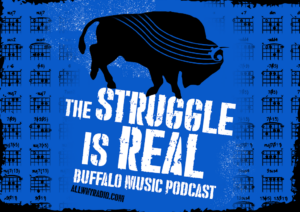 On episode #51 of The Struggle is Real Buffalo Music Podcast, Ryan, Cassidy and Kevin talk with local rapper & member of R&B group 4BLO, Genecist. They discuss his upcoming releases in 2020, what it's like being a performing musician with a disability and play a fun game called "Aqueous or Aquarius". We also play music from Breakfast for Dinner, Genecist, The Eaves, 4BLO and Just One More. And the gang also discusses upcoming concerts and previous concerts, The Stage, and Milkie's new PA system.
0:00 – INTRO:
1:25 – The Stage and Milkies New PA
6:35 – MUSIC: "Sweetheart" by Breakfast For Dinner
9:25 – Previous Shows
20:00 – MUSIC: "Untethered " by The Eaves
23:59 – Genecist Interview
36:13 – MUSIC: "25 For Life" by Genecist
40:27 – Game Aqueous or Aquarius with Genecist
45:10 – MUSIC: "Time" by 4BLO
49:00 – Upcoming Shows
1:00:45 – MUSIC: "Ms.Enthope" by Just One More
1:05:13 – Wrap Up and Closing
You can find us on Facebook at facebook.com/TheStruggleIsRealPodcast and on Twitter @SIRpodcastNY.
---

All WNY is made possible thanks to coffee and sleep deprivation.
Buy us a cup? (of coffee, we can handle the sleep deprivation ourselves)