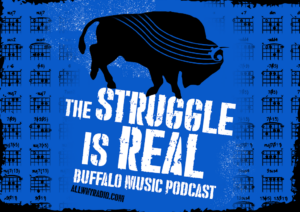 On episode #45 Part 2, Ryan and the gang finish up a two-part episode with Flowerhouse Studios owner and On the Cinder frontman/guitarist Jason Wright. They talk tour stories, Jason's incredibly affordable studio and the issues that come with running a punk house studio and much more.
Also, Ryan has a big announcement about Struggling Productions partnering with Yace Booking. The gang asks Santa for a ton of stuff for the buffalo music scene and they play music by On The Cinder, Ian McCuen, Omeri Monroe, Shambles and Philip Stephen.
0:00 – INTRO
1:05 – BIG ANNOUNCEMENTS: Struggling Productions Partnership With Yace
5:16 – MUSIC: "Giving Up" by Ian McCuen
8:08 – PREVIOUS SHOWS
18:50 – MUSIC: "Ohhhhhh" by Philip Stephen
23:28 – INTERVIEW: Jason Wright, Part 1
35:20 – MUSIC: "#Anarchy" by On The Cinder
37:25 – INTERVIEW: Jason Wright, Part 2
47:10 – MUSIC: "Fair Enough" by Shambles
51:15 – Upcoming Shows
55:35 – MUSIC: "Feeling" by Omeri Monroe
59:15 – Asking Santa
1:04 – Housekeeping
You can find us on Facebook at facebook.com/TheStruggleIsRealPodcast and on Twitter @SIRpodcastNY.
---

All WNY is made possible thanks to coffee and sleep deprivation.
Buy us a cup? (of coffee, we can handle the sleep deprivation ourselves)