Holiday baking is here. I don't know about you but I love it there is nothing like giving someone a plate of homemade cookies and candies and seeing that smile on their face. For me I bake and make a lot of different kind of cookies and candies and tray and box them a lot of different ways. So when can save the empty oatmeal containers, the Pringles ones and stock up on your decorative dollar tree plates.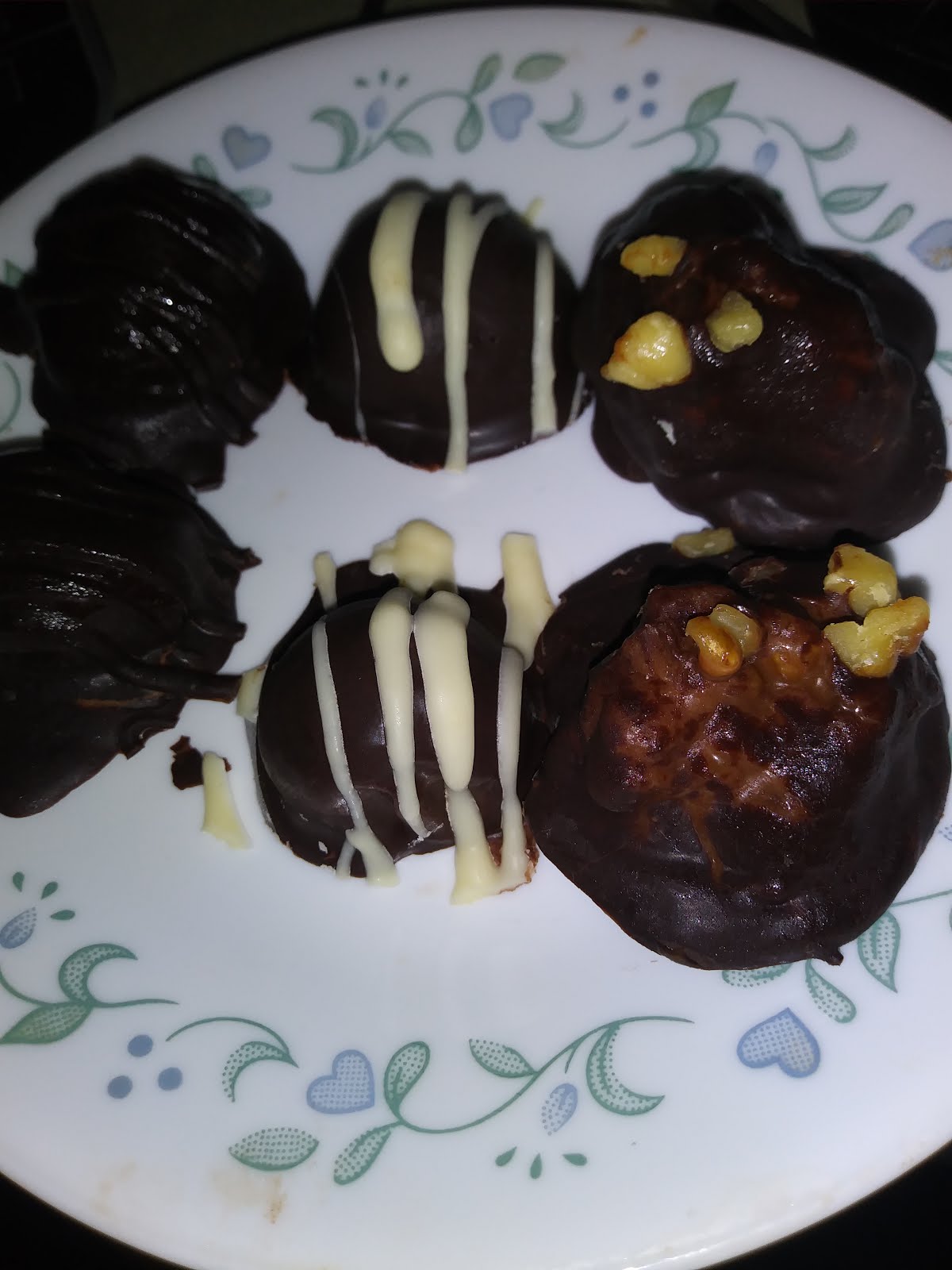 When you box goodies for your family and friends, bar cookies work best, like brownies, magic cookie bars., you just want a solid bottom. Depending on where you are shipping to what the requirements are.
Variety is the best way to go and remember just about any cookie can be made into a bar cookie. Another great item to make for the holidays and a great food gift is Chex mix and now a days there are so many different types you can make, just go on the Chex cereal web site and choose one plus you can do them in the microwave no oven needed.
I recently made the carnation fudge recipe rolled it into balls and then dip it into melted chocolate and topped it with chopped nuts.
I also made a batch of chocolate truffles, my sister's favorite, I made half the batch regular chocolate and the other half Grand Marnier and then dipped those as well.
3oz granulated sugar
3 oz unsalted butter
2 to 2 1/2 # semi sweet chocolate
1 pint of Heavy Cream
Boil the heavy cream, sugar, and butter, and then turn it off and add the chocolate to it and stir it until all the chocolate is melted, I divided into 2 portions, added 3T Grand Marnier to the one half and mixed it in and let it set up in fridge for a couple of hours and then roll it into balls and refrigerate until firm again. And dip it into melted coating chocolate, like almond bark and put back in the fridge until set again.
This is a wonderful truffle recipe not to sweet really enjoyable if you don't like Grand Marnier you can use Irish Cream or Amaretto, or extracts if you want, but try it you will like it.

Natilie Cavnar is a cooking fanatic who loves to try new recipes, and create some of her own, ask her what you want at thenormalchef@gmail.com.
---

All WNY is made possible thanks to coffee and sleep deprivation.
Buy us a cup? (of coffee, we can handle the sleep deprivation ourselves)