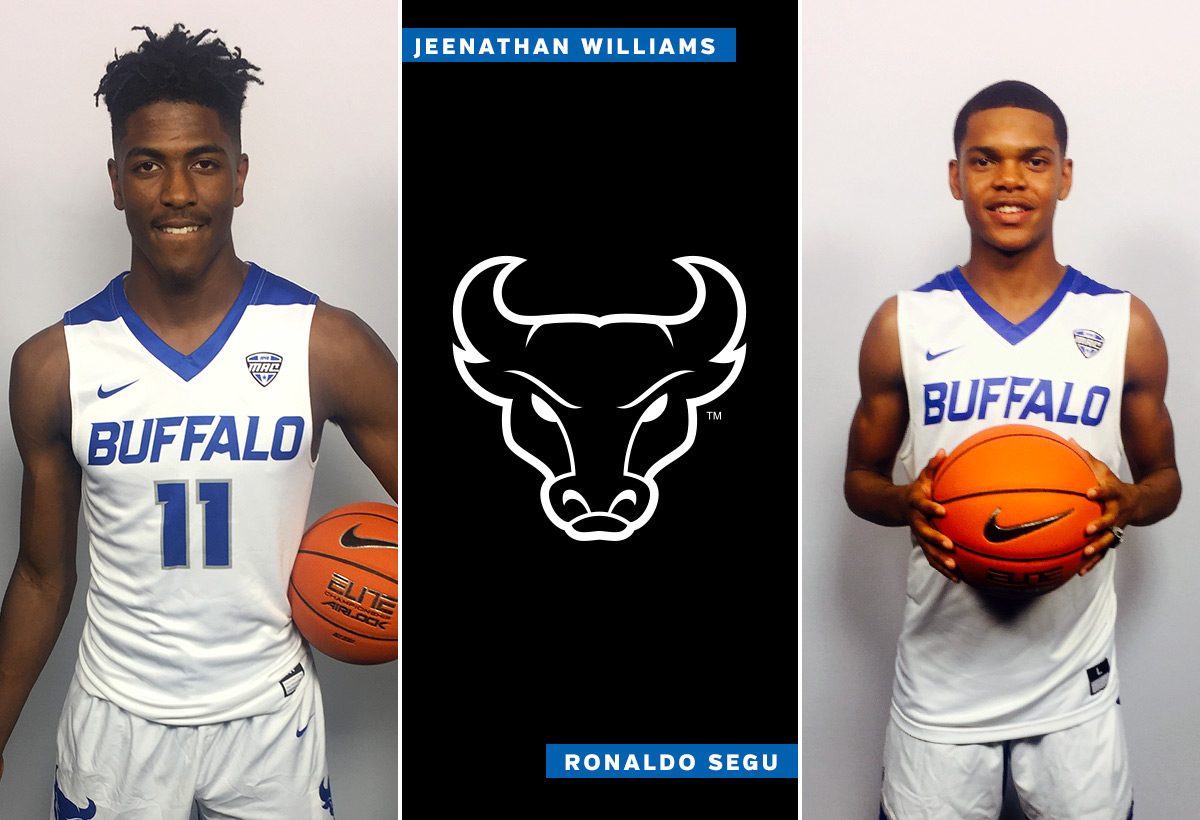 UNIVERSITY AT BUFFALO ATHLETICS
---
BUFFALO –

While the current University at Buffalo men's basketball team has just wrapped up their most successful season in school history, the future continues to look bright for the Bulls as two of their highly-touted signings for next season have made noise throughout their respective 2017-18 seasons.
Jeenathan Williams, a native of Rochester, NY, was listed as 83rd in the latest Rivals Top 150 for the Class of 2018. Williams jumped up 45 spots in the latest list released yesterday by Rivals.com, the highest jump of any player in the nation. He is one of just nine players to commit to a non-Power 5 school out of 150 and he is the fourth highest on the list among non-Power 5 commits.
Williams becomes the first Mid-American Conference recruit on the Rivals Top 150 list since 2010 when Trey Zeigler committed to play for his father at Central Michigan. Akron's Zeke Marshal made the list in 2009.
Williams played this past season at Prolific Prep in Napa Valley, CA after spending his first three years at University Prep Charter School in Rochester. He averaged 15.8 points per game at Prolific Prep this past year, including a season high 24 points against Westtown School, where he was 10-of-12 from the floor. He scored 20 or more points six times including against Bella Vista Prep out of Arizona at the Grind Session World Championships.
It was also a solid season for Williams' fellow incoming freshman Ronaldo Segu, who won a state title with Orlando Christian Prep this past year. Joined by teammate and North Carolina commit Nassir Little, Segu played some of the nation's top competition during his senior season, but still helped lead his school to the 3A State Title in Florida. Segu was an All-Area Fourth Team selection in a loaded class that has most of its talent going to high major schools. Segu had 11 points and three steals in the state championship game.
In the most recent position rankings released today by Rivals, Segu was ranked as the 44th best point guard in the country. Earlier this year, ESPN had him ranked 32. Williams was tabbed as the 20th best small forward in the Class of 2018 by Rivals, and the top small forward to go to a school outside the Power 5. In all, Rivals has Buffalo with the 60th best recruiting class in the country.
"Both of these guys are hard-working and humble gym rats that will fit the culture we have built here," said head coach Nate Oats. "They're both proven winners and will fit right into our playing style. I can't wait to get them into our program this summer and join our current group including Javion, who has been able to practice with us all Spring."
These two add to a class that already includes Javion Hamlet, who joined the Bulls in January for the spring semester. Hamlet has three years of eligibility remaining after transferring in from Motlow State College where he led the nation in assists as a freshman.
---