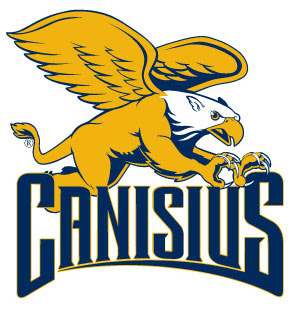 Canisius senior Lindsay Silfer has been named the 2017 MAAC Softball Co-Preseason Player of the Year, the conference office announced today. Silfer, the 2016 MAAC Player of the Year, is the first Canisius player to be named the MAAC's Preseason Player of the Year since former Griff Katie Miranto was honored prior to the start of the 2008 season.
Silfer finished her junior season with a league-best .417 batting average, and she won the league's regular-season batting crown after she hit .425 in 52 regular-season games. The Cicero, New York native had 70 hits in 2016, which tied a program record, highlighted by her 21 multi-hit games and a career-long 12-game hitting streak, which ran from April 23 through May 6. The Griffs' primary cleanup hitter, Silfer finished 2016 ranked among the top-five in the MAAC in seven different offensive categories (batting average, hits, RBI, total bases, slugging percentage and on-base percentage). Her 40 RBI in her junior season came on the power of 11 multi-RBI games, and she starts her senior campaign with 95 career runs batted in, which ranks 12th in school history.
An All-MAAC First-Team honoree and a CoSIDA Academic All-District Award winner last spring, Silfer ended the 2015-16 academic year as an NFCA All-Region Third-Team honoree as well. She is the only Canisius player to earn a spot on the 2017 Preseason All-MAAC Team.
The MAAC office also announced the 2017 MAAC Softball Preseason Coaches' Poll on Monday, and the Griffs were tabbed to finish fourth. Defending MAAC champion Marist is the league's preseason favorite to win the conference's crown, as the Red Foxes received 10 first-place votes and 119 total points. Monmouth received one first-place vote and earned 107 points to rank second, while Fairfield (91 points), Canisius (81 points) and Manhattan (80 points) rounded out spots three through five in the preseason poll. Quinnipiac was voted to finish sixth with 71 points, with Iona (49 points), Siena (48 points) and Niagara (42 points) ranking seven through ninth. Rider (24 points) and Saint Peter's (14 points) were chosen to finish 10th and 11th, respectively.
Canisius returns six starters and three pitchers from the 2016 team that went 23-32 overall and 13-7 in MAAC play. The Griffs will open the 38th season in school history Feb. 11 when the team takes part in the fifth annual CSU Dome Invite in Cleveland, Ohio.
from GoGriffs.com via IFTTT
---
---