BUFFALO– University at Buffalo head softball coach Trena Peel has announced her 2017 campaign as the Bulls will play their first 28 games on the road before opening up Mid-American Conference play at home in late March.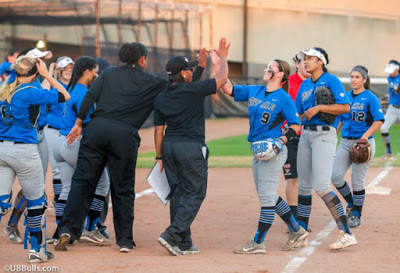 The Bulls will begin the season on Feb. 17 in Hammond, LA at the Lion Classic II where Buffalo will face the host team Southeastern Louisiana in the first game of the season. That weekend, UB will also face Morehead State, Texas-Arlington, Alcorn State, and Southeast Missouri State.
The Bulls will then move on to play George Mason on Feb. 24 before playing at the Norfolk State Tournament from Feb. 25-27. Buffalo will open up March with a trip out to Ft. Collins, CO as the Bulls play in the Colorado State Tournament from Mar. 3-5.
UB will then move on to Memphis, TN for the Memphis Tournament the following weekend before moving into Big Ten country and playing in the Maryland Tournament from Mar. 17-19 in College Park, MD. The Bulls will round out the season-opening road trip with a doubleheader at George Washington on Mar. 21 and a doubleheader at Mount St. Mary's on Mar. 22.
The Bulls will open MAC play and their home season on Friday, Mar. 24 when the host Ball State for a three-game series (Mar.24-25). UB will then play its next seven on the road before returning home to host Western Michigan the weekend of April 7-8.
Following a home game against Akron on Apr. 12, the Bulls will once again go back on the road for eight straight before closing out the regular season with a season-long eight game homestand. UB will host Kent State for three games on April 28-29 and then a doubleheader against Niagara on May 3. Buffalo finishes the regular season at Nan Harvey Field against Ohio in a three-game series on May 5-6.

The 2017 Mid-American Conference Tournament will once again take place at Firestone Stadium in Akron, OH. The conference tournament will run from May 11-14 with the winner claiming the MAC's automatic bid into the NCAA Tournament.
from UBBulls.com via IFTTT
---
---