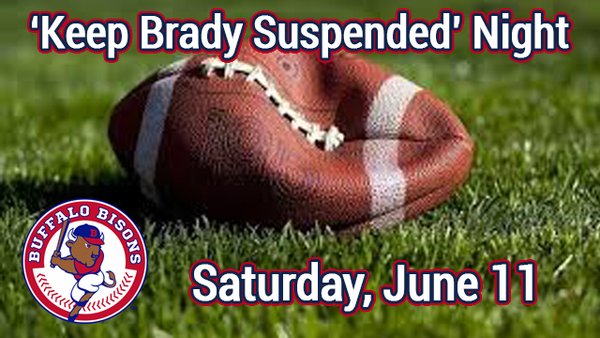 BUFFALO — The Buffalo Bisons will host a "Keep Brady Suspended" Night for the team's doubleheader on June 11 against the Charlotte Knights, one day after the Pawtucket Red Socks host a "Free Brady Night."
"The New England Patriots quarterback has been suspended the first four games of the 2016 NFL season for cheating in a playoff game against the Indianapolis Colts," succinctly states a press release from the Bisons. "To show our support for this just and rightful punishment, the 'Keep Brady Suspended Night' will feature Buy-One, Get-one Free Tickets to anyone that brings a properly-inflated football to be donated to area youth football programs" or an "un-destroyed cell phone … for 'Cell Phones for Soldiers' charity."
The evening will also feature a 12.5 percent discount in the Bisons' gift shop for anyone that brings a
Tom Brady jersey/t-shirt to add to the postgame fireworks display.
"Help us remind Tom of the minimum amount of inflation for footballs, for you know…once he gets to play again," the team press release says.
There will be scoreboard videos "featuring some of sports' greatest cheaters, with special video tribute to Patriots' coach, Bill Belichick and much, much more."
The tongue-in-cheek press release continues, "Some fans should be advised. If you are named 'Tom' or 'Brady,' you will be allowed entrance into Coca-Cola Field for 'Keep Brady Suspended' Night, but will not be allowed to watch the first four innings of game one of the doubleheader. Please, no appeals."
Click here for tickets for the 'Keep Brady Suspended' Night. You can also purchase tickets at the Coca-Cola Field Box Office or by calling (716) 843-HERD. The doubleheader is a 'single-admission' doubleheader with the first game starting at 6:05 p.m.
Image courtesy of the Buffalo Bisons.
---