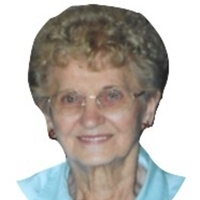 A retired waitress with over 30 years of service at the former Cypress Gardens Restaurant, in Buffalo, New York, Virginia M. (nee Kubiczek) Bernys, passed away at the age of 96.
Virginia was one of the originators of the Committee that started the "Bingo" fundraiser at Our Lady of Czestochowa Parish, in Cheektowaga, New York. It had operated for 52 years and she was still on the committee when the Church stopped using Bingo as a source of fundraising. For several years, she was also the Recording Secretary of the Parish Rosary Society, a member of the Mother's Club, and a faithful promoter of the National Shrine of Our Lady of the Miraculous Medal.
In her younger years, Virginia served as a School Crossing Guard at the Clinton and Smith Street intersection. She also enjoyed getting together with family and friends to play "Lap Board" Card Games, and contributing at several East Side Bingo halls, to help support the neighborhood fundraising efforts. Every once and a while, she was even lucky enough to win!
She also enjoyed spending quality time with her grandchildren and great-grandchildren.
Virginia was married to her "Best Friend" and the "Love of her Life", her beloved husband, the late Stanley J. Bernys, Sr., who predeceased her on December 16, 2016, when he also reached 96 years of age.
She was the devoted mother of Stanley J. (Barbara) Bernys, Ronald (Susan) Bernys, and Janice (Edward) Kuczmarski.
A loving grandmother of Daryl (Julie) Bernys, Todd (Minser) Bernys, Ronald (Theresa) Bernys, Brian (Kathy) Bernys, Adam (Valerie) Bernys, Holly (Joseph) Kassel, Andrew (Theresa) Kuczmarski, Brandon Kuczmarski, and great-grandmother of Jett, Skyla, Alexis, Ethan, Caitlyn, Noah, Leah, Lucy, Brian, Samson, Wyatt, Penelope, and Matthew.
The cherished daughter of the late Sophie (nee Spyra) Kubiczek and the late Ignatius Kubiczek, and dearest sister of the late Edward (late Mary) Kubiczek, late Stanley (late Josephine) Kubiczek, late Sophie (late John) Juszkiewicz, late Viola (late Valentine) Bernys and late Helen (late Joseph) Gawron and also survived by several nieces and nephews.
The family will be present on Wednesday, July 14, 2021, from 4-8 PM at the PIETSZAK FUNERAL HOME, 2400 William Street, in Cheektowaga, New York, near Harlem Road.
Relatives and friends are invited to assemble for a Mass of Christian Burial (at a Place and Time, to be announced)
on Thursday, July 15, 2021.
Please Note: Face coverings will be required at the Church.
Burial will follow at Mt. Calvary Cemetery, in Cheektowaga, New York.
The family appreciates your prayers and concerns during these trying times and would like to thank you for your support and understanding.
Please take a minute to share a picture in our online Photo Album or a favorite memory in our Guest Book here on Virginia's Tribute page.