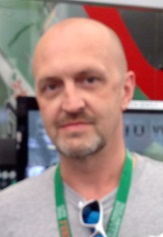 Russell John Sprung passed away suddenly at home on March 12, 2021. He was born on April 27, 1970 a son of John and Brenda (Munger) Sprung. Russ previously was a security supervisor at Delphi. He presently worked for the City of Lockport as a heavy equipment operator. Russ was on bike patrol for 10 years with the Niagara County Auxiliary Police. He enjoyed a stiff cocktail with friends, working on cars and playing with his dogs.
Russ is survived by his wife of 10 years Mary Beth (Stanko) Sprung; son Brandon Sprung; brothers Timothy (Cheryl) Sprung, Kenneth Sprung; nieces who he adored Amanda, Michelle, Tiffany; and furry companions Zora and Maya Lou.
Private services held at the convenience of the family.