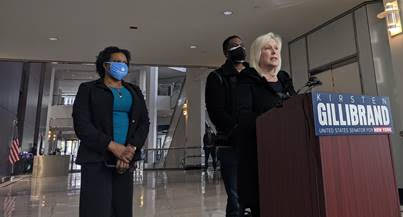 New York – Today, U.S. Senator Kirsten Gillibrand, member of the Senate Agriculture Committee, announced a bicameral push from over 135 members of Congress, urging U.S. Department of Agriculture (USDA) Secretary Tom Vilsack to review and increase the value of the Special Supplemental Nutrition Program for Women, Infants and Children (WIC) food packages in order to reflect a modern, healthy diet. Since the WIC program was started in 1974, it has earned a reputation as one of the most successful federally funded nutrition programs in the country. However the WIC food packages have not been revised since 2014. Almost a quarter million New Yorkers are WIC recipients, and half of infants born in the state before the pandemic were part of the program. Given the rising costs of food and the explosive growth of New Yorkers battling hunger, there is no better time than now to revise the food packages.
Gillibrand successfully fought for the inclusion of the vital Cash Value Voucher (CVV) increase for fruits and vegetables in the American Rescue Plan to support women and children for a four-month period during the pandemic, up to $35 per month. This is an increase from $9-$11 monthly.
Gillibrand was joined by New York City Public Advocate Jumaane D. Williams and Georgia Boothe, Executive Vice President at Children's Aid, who discussed the local impact of this transformational federal anti-hunger push.
"Giving families healthier options in WIC food packages has demonstrated positive health outcomes. That's why we are asking the Department of Agriculture to now take the necessary steps of reviewing and updating the WIC food packages to reflect a modern healthy diet," said Senator Gillibrand. "We need to permanently raise the value of the food packages so families can afford to buy not just more food, but healthier food. Making these changes will ensure that USDA is reaching as many eligible families as possible and getting them resources they need, and I am looking forward to working with my colleagues and Secretary Vilsack to make this happen."
"As we know, COVID-19 exposed inadequacies in systems and deepened suffering along existing fault lines – including our food and resource support systems. I thank Senator Gillibrand, who has long been a leader on these issues, for assembling a coalition to push for critical expansion of the WIC program to meet modern nutritional needs and expenses. The program has not seen an update since 2014– it was overdue before the pandemic, and now it's become an urgent emergency. As I made clear in my Renewed Deal for New York, the way to move through the COVID-19 crisis and repair existing systemic inequities is not in austerity, but in investment. I urge Secretary Vilsack to further invest in the nutritional and financial health of families in need." –Public Advocate Jumaane Williams
"We are so excited to stand with Senator Gillibrand and Public Advocate Williams on this most important effort to enhance the nutritional quality and value of the WIC program as well as increase the amount of healthy options families can access," said Georgia Boothe, Children's Aid Executive Vice President. "Food insecurity in our communities is at an all-time high, so we know these efforts are critically important for families who have been among the hardest hit by the pandemic."
"Boosting the WIC food package will provide much-needed support to New York families who face devastating food inequities that have only been exacerbated by the COVID-19 pandemic," said Lauren Brand, chair of the WIC Association of New York State. "WIC families will benefit from receiving additional nutrient-rich foods that encourage healthy eating habits for life, ensuring that every child gets a healthy start. The WIC Association of New York State thanks Senator Gillibrand for bringing attention to the urgent need to increase the value of the WIC benefit."
WIC is an essential resource for mothers and young children in New York City and across the country. It provides food, health screenings, breastfeeding consultations and counselors, resources for handling substance use disorder, and referrals to other support programs.
Gillibrand leads the Special Supplemental Nutrition Program for Women, Infants, and Children (WIC) annual appropriations letter every year and is a major anti-hunger champion. Throughout the pandemic, she's worked to expand access to the resources local anti-hunger advocates need to feed New Yorkers and on the island of Puerto Rico.
Read the text of the letter here
---