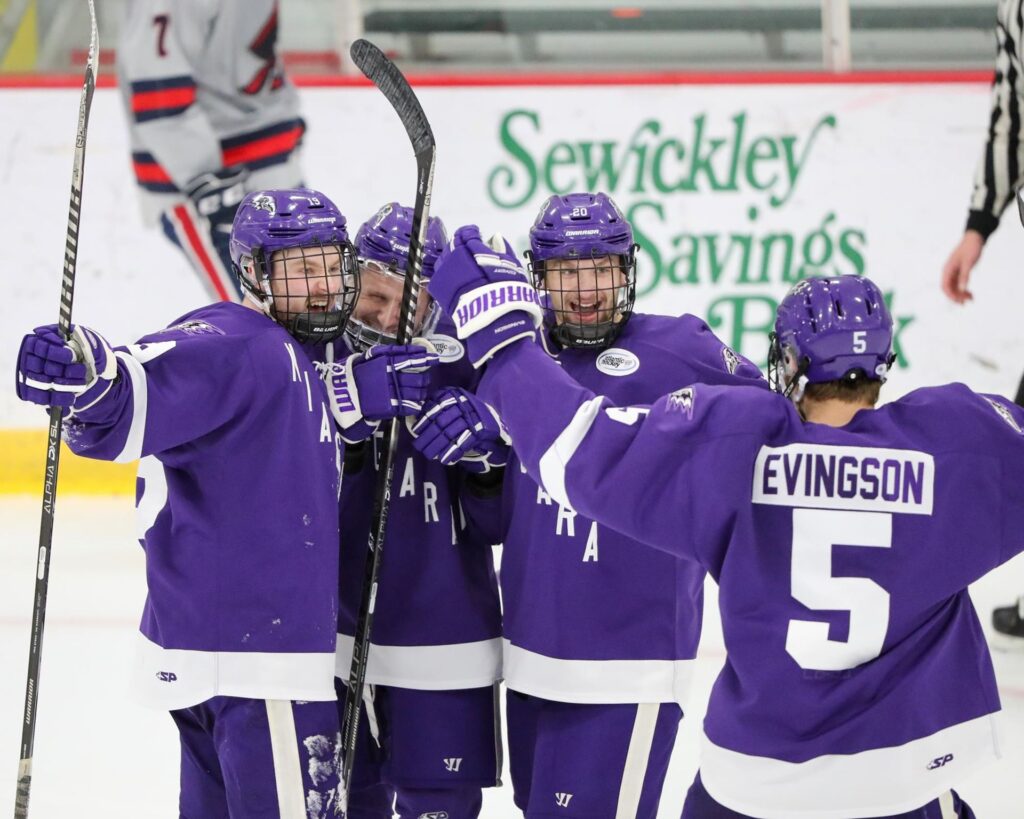 PITTSBURGH, PA. – Jack Billings and Walker Sommer scored, and Chad Veltri made 44 saves as Niagara defeated Robert Morris, 2-1, to advance to the Atlantic Hockey Semifinals for the second time in three years.
First Period
• Jack Billings picked up right where he left off Saturday as he scored the opening goal for the second consecutive night.
• Niagara successfully killed two Robert Morris power plays to hold onto its 1-0 advantage.
• Chad Veltri made a couple of highlight-reel saves en route to making 18 stops in the frame.
• Robert Morris had a plus-13 advantage in shots (18-5) after one period of play, as well as the edge in faceoffs (13-8).
• Niagara blocked a total of 10 shots in the first.
Second Period
• Walker Sommer gave Niagara a 2-0 lead early in the second period. Croix Evingson rifled a pass from the RMU attacking zone that Sommer deflected into the back of the net.
• Niagara killed its third penalty of the night during the middle frame.
• Veltri stayed hot between the pipes, making 16 stops on 16 shots. The defense was also a factor in holding the lead, blocking five Colonial shots.
Third Period
• Niagara got its first power-play chances in the third as Robert Morris was called for too many men and goalie interference during the final 20-minutes. The Purple Eagles went 0-2 with the man advantage.
• Robert Morris cut the NU lead in half with a goal in the game's final seconds.
• The Purple and White finished the game with 32 shots on goal, 20 faceoff wins, and 22 blocked shots.
Game Notes
• Niagara scored first in all three games of the series.
• The Purple Eagles recorded 20 or more blocks in each game of the quarterfinal series.
• Veltri finished the game with 44 saves. The sophomore made 40-plus saves in both of Niagara's wins during the series.
• Billings finished the series with three goals and three points.
• The Purple and White are 3-0 in elimination games this season.
• Niagara will play in the Atlantic Hockey Final Four for the second time in three years. In 2019, the Purple Eagles defeated RIT before falling to AIC in the championship game.
Up Next
• Niagara will take on the top-ranked AIC Yellow Jackets in the AHA semifinals Friday, March 19. The semifinal contest is scheduled for a 2:05 p.m. start at MassMutual Center in Springfield, Mass.
• For more information on the AHA championship, visit atlantichockeyonline.com
Stay connected with Niagara Hockey on Twitter and Instagram.Follow Niagara Athletics all year long on Twitter,Instagram, Facebook, and purpleeagles.com.
---