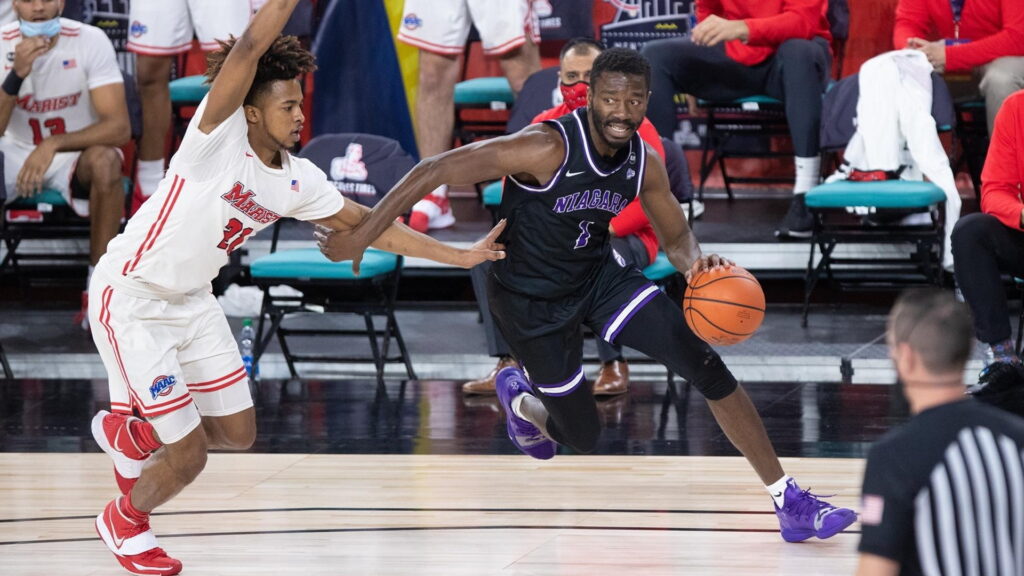 Game Summary
The Purple Eagles and Red Foxes met in the MAAC Championship for the second straight season. Niagara edged Marist in the final seconds last season and had to hold off a late rally to come away with the win tonight.
The Purple Eagles, who never trailed, led by as many as 19 points after controlling the first half and first 10 minutes of the second half.
Niagara set the tone early in the game. Nicholas Kratholm opened the scoring with a 3-point play as the Purple Eagles built a 13-5 lead eight minutes into the contest. Kratholm converted his second 3-point play of the half at the 9:19 mark for a 19-7 lead. Niagara went into the half leading 28-20 but broke the game open with a fast start to the second stanza.
The Purple Eagles outscored the Red Foxes 14-8 in the opening five minutes on their way to a 42-28 lead. A Kobi Nwandu layup at the 11:51 mark gave Niagara its largest lead at 51-32. The Red Foxes gradually chipped away at the deficit and used a 9-0 run to cut Niagara's lead to 62-58 with 2:44 left. However, Kratholm halted the run with a layup on Niagara's next possession with two minutes remaining.
Marist had possession trailing 65-62 with six seconds on the clock, but turned the ball over. Solomon added the game's final points at the free-throw line to finish as the leading scorer.

Eagle's Eye On…
Inside The Numbers
The Purple Eagles are now 14-11 in the quarterfinal round.
Niagara improves to 5-2 all-time versus Marist in the MAAC Championship.
Niagara made 20 free throws which are the second most this season. Niagara's season-high in free throws are 24 which was set against Marist on January 2.
NU grabbed 41 rebounds which are the second most this season.
The Purple Eagles had a season-high five blocks.
Niagara shot 57.1 percent from the field in the second half.
Up Next
The Purple Eagles advance to the 2021 MAAC Championship Semifinals where it will play the No. 9 seed Iona Gaels at 6 p.m.
Coverage of the game will be provided by ESPNews and by the Niagara Sports Network via 107.3 FM/AM 1400 and www.PurpleEagles.com/Watch.
Stay connected with Niagara Men's Basketball on Twitter and Instagram. Follow Niagara Athletics all year long on Twitter, Instagram
---