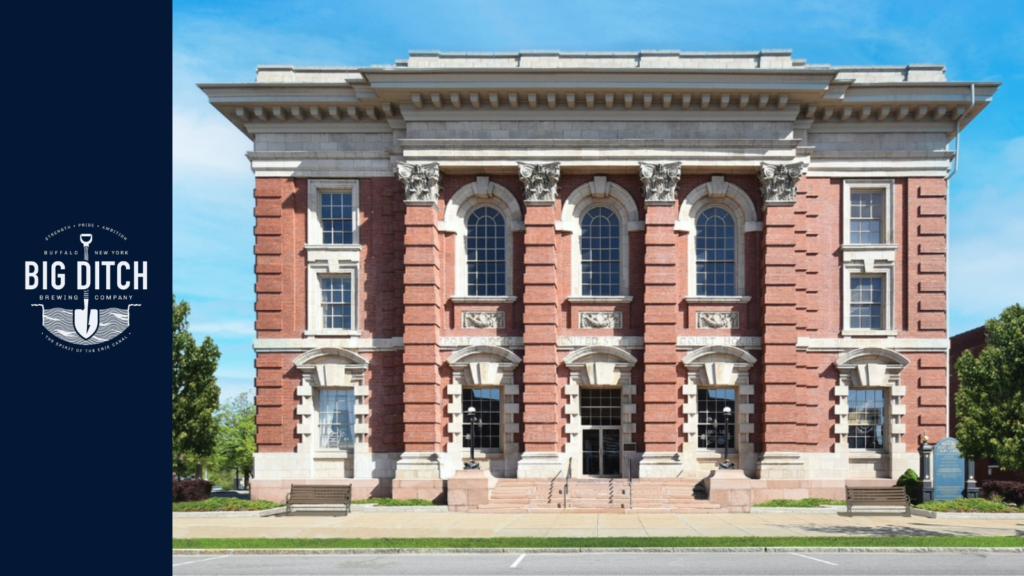 LOCKPORT — Big Ditch Brewing Company today officially announced that it is planning on opening a Brewery and Tap Room in the Historic Post Office Building located at One East Avenue in the city of Lockport, directly across the street from the historic Palace Theater. Iskalo Development is nearing completion of a comprehensive renovation of the Historic Post Office Building which was originally constructed in 1902. It is anticipated that the new Big Ditch Brewing Tap Room will open by mid-year in 2024.
"We are excited to bring our award-winning beers and high-quality pub food to the city of Lockport," stated Matt Kahn, President and Co-founder of Big Ditch Brewing Company. "In discussion with area officials, it's clear that there is a need for a venue such as ours in the city," added Kahn. "The proximity of this location to the Erie Canal, which our brewery is named after, makes this a perfect fit for our next Tap Room destination."
The Lockport Tap Room will feature seating for 250 guests over two levels and will feature a large bar, main dining area, outdoor covered patio, and private event space. The venue will also include a small brewery for making experimental beers, enabling patrons of the Lockport Tap Room to be the first to taste new beers that Big Ditch is developing.
The decision to proceed with this new Lockport Tap Room at One East Avenue is independent of Big Ditch Brewing's plans with respect to the proposed brewery project at 6700 Transit Road in Williamsville which was delayed due to the onset of the Covid-19 pandemic. Big Ditch subsequently proceeded to open a production brewery at 101 Oak Street in downtown Buffalo to support growing demand for retail distribution across New York State.
"While not ruling out the possibility of a future project involving Big Ditch on the Transit Road site, we are presently focused on delivering an outstanding Tap Room experience at the Historic Post Office Building in Lockport in support of our customers located in Niagara County," stated Kahn.
Big Ditch will shortly begin hiring staff for the new Lockport Tap Room project. Interested applicants should visit their website at bigditchbrewing.com/jobs for job listings and application instructions.
---

All WNY is made possible thanks to coffee and sleep deprivation.
We appreciate your readership. We like money, too.