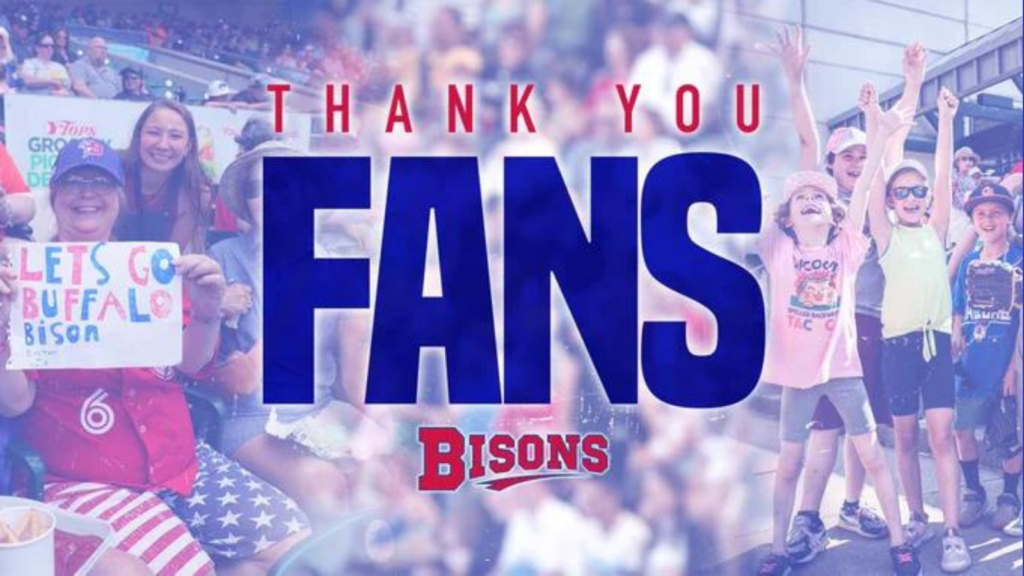 BUFFALO – The Buffalo Bisons completed the 2023 season with an 11-6 victory over the Norfolk Tides to split the series and win their 76th game of the season. It helped cap the fourth straight winning season for the Herd.
The Tides jumped out to a 2-0 lead thanks to a pair of runs off of Buffalo starter Andrew Bash. The righty would work the first three frames in his final appearance Bisons of the year. It was also Bash's eighth straight start since re-joining in mid-August.
The first of Buffalo's two three-run innings came in the bottom of the second thanks to miscues by Tides starter Justin Armbruester. The righty balked twice, including with Leo Jimenez at third base to force in a run. Kyle Dowdy also balked with Jose Ferrer at third to tie the game 2-2. Steward Berroa's first hit of the game drove in a run as well and give the Herd a 3-2 lead.
Buffalo found themselves trailing 6-3 going to the bottom of the sixth inning, but scored eight unanswered runs for the runaway victory. Max McDowell had hits in back-to-back innings to cap his three-RBI day. His first RBI base hit drove in a run before Otto Lopez and Addison Barger added RBIs.
Barger's sacrifice fly in the sixth was the first of two in as many innings for the 23-year-old. He would finish the season with 46 RBIs with Buffalo. The team's three-run bottom of the sixth put Norfolk behind 6-4.
The Bisons scored five more times in the bottom of the seventh when six straight batters reached base, five on base hits. McDowell's two-run double helped the rally, while RBI base hits by Berroa and Lopez. Barger's second straight sacrifice fly finished the scoring for the game 11-6.
Three different Bisons' batters had multi-hit performances in the season finale, including Berroa who went 3-3 with two RBIs and a run scored.
Jimmy Burnette was one of four relievers to help preserve the Bisons victory. The left hander was credited with his second win of the season thanks to two innings of work allowing just one hit and adding a strikeout.
The Bisons finished the regular season with a 76-72 record, the identical record as the team finished with in 2022. The Herd has now finished with a winning record dating back to the 2019 season.