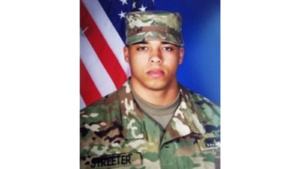 TreVon D.M. Streeter, 26, of Niagara Falls, NY passed away on September 2, 2023. Born in Niagara Falls, NY, he was the son of Nancy J. (nee Lane) (John O.) Beaman and the late Dennis Streeter.
TreVon grew up in Niagara Falls and graduated from Niagara Falls High School in 2015. After high school, he joined the Army Reserves. He worked at F.R.R. Properties and a used car business. An active man, TreVon loved working out at the gym, boxing, and MMA – especially if he could enjoy some good music while he did it. He loved anything to do with cars. The most important thing to him was family, and he especially loved his son Mikah.
In addition to his mother, TreVon is survived by his beloved son, Mikah D. Streeter; maternal grandmother Minnie (late David) Williams; paternal grandparents Dennis (Mona) Brown, Ruth Streeter, and Constance Hamilton Cooke; paternal great-grandparents Annabelle (late Bill) Brown; Brandi (Kyle) Meyers, Shaquila Lane, step-sisters Jasmine Beaman and Yazmeinda Beaman, and step-brother John O. Beaman. He was the uncle of Kaysen Meyers, Katalaya Fair, Skylar Fair, King Fair, and Julianna Beaman He is also survived by many aunts, uncles, and cousins. In addition to his father, TreVon was predeceased by his brothers Dennis, Daprice, Davante, and Dominik Streeter.
Private funeral services were held for TreVon's family. Arrangements by M.J. Colucci & Son Niagara Funeral Chapel. Visit mjcoluccifuneralchapel.com for online condolences.