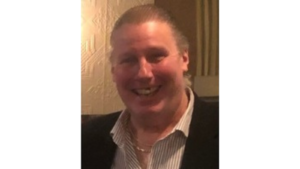 Carl L. Penders, 63, of Youngstown, NY, passed away on September 17, 2023 at his residence. Born in Niagara Falls, NY, he the son of the late Carl D. and Beverly (Baker) Penders.
Carl was a graduate of the former LaSalle Senior High School. He served for 25 years as a Correctional Officer and Acting Sergeant with the Niagara County Sheriff's Department until his retirement in 2011. Carl loved spending time with his family, and especially enjoyed watching his kids play baseball and football as children. He was also an avid fan of the Las Vegas Raiders, New York Yankees, and Boston Bruins and enjoyed golfing and watching golf tournaments on television, especially the US Open. An animal lover, Carl was extremely close to his dogs, especially his dog Louie. Carl also cherished family and friends get togethers where a good time was had by all, and Carl would be in his glory listening to music, cooking, grilling and enjoying a good cigar.
Carl is survived by his children, Carl R. Penders (Tia Fiocco), Samantha A. Penders (A.J. Rak), and Alex C. Penders (Amber Salada); his loving wife, Anna M. (Atkin) Penders; his grandchildren, Blake Penders, Hayden Penders, Lucas Penders, and Ashton Penders; his siblings, Catherine (late David) Williams (Gerald Nardelli), and Carol Butera, his step-sisters, Elizabeth Grogan, Maureen Certo, and Bridget Hilts as well as several nieces, nephews and cousins.
Visitation will be held on Thursday, September 21 from 3 – 7 PM at M.J. COLUCCI & SON NIAGARA FUNERAL CHAPEL, 2730 MILITARY ROAD, NIAGARA FALLS, NY 14304, where funeral services will be held at 7 PM. Private interment will be held in St. Joseph's Cemetery, Niagara Falls, NY. In lieu of flowers, memorial offerings may be made to St. Jude's Children Research Hospital, https://www.stjude.org/donate/. Visit mjcoluccifuneralchapel.com for online condolences.SERVICES
Visitation
Thursday, September 21, 2023
3:00 PM – 7:00 PM
M.J. Colucci & Son Niagara Funeral Chapel
2730 Military Road
Niagara Falls, NY 14304
Funeral Service
Thursday, September 21, 2023
7:00 PM
M.J. Colucci & Son Niagara Funeral Chapel
2730 Military Road
Niagara Falls, NY 14304
---

All WNY is made possible thanks to coffee and sleep deprivation.
We appreciate your readership. We like money, too.