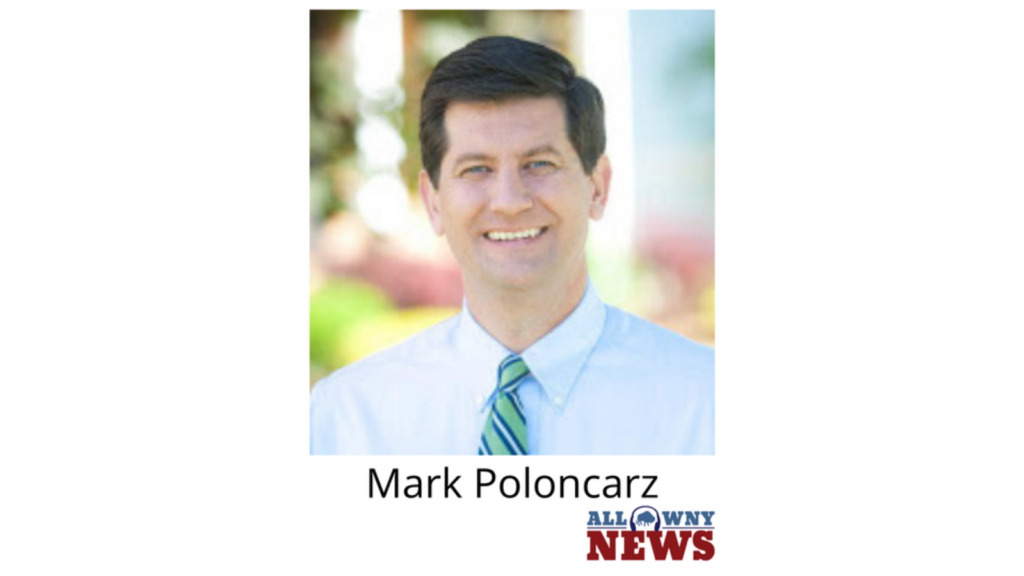 Erie County Executive Mark C. Poloncarz was joined today by Commissioner of Health Dr. Gale Burstein and Commissioner of Mental Health Mark O'Brien, Chief Executive Officer of Crisis Services Jessica Pirro, Kathryn Coric of the Suicide Prevention Coalition, and concerned citizens in front of the Edward A. Rath county office building to spread a message of hope and proclaim "Suicide Prevention Week" in Erie County. Participants joined together to raise a yellow "Flag of Hope" on the Rath building flagpole as a symbol of hope against this public health crisis. Yellow is the color chosen to highlight the issue of suicide prevention. 
"The effects of suicide ripple out far beyond the tragedy of an individual choosing to end their own life and make it all the more important to raise awareness and let people know that help is available, whatever issues they are facing," said Erie County Executive Mark C. Poloncarz. "There is no shame in reaching out to another person, whether to ask for help or to help someone else, and it's these interactions that can prevent a tragic final decision from which there is no coming back. I thank our community partners for joining us in raising our voices of concern and compassion for people who may be struggling, and I urge anyone who is having self-destructive thoughts to please reach out for help. We are here for you."
According to the American Foundation for Suicide Prevention, suicide is the 11th-leading cause of death among adults. In 2021, 48,183 Americans died by suicide and there were an estimated 1.7 million suicide attempts. In that year suicide rates were higher among adults aged 25-24 (19.48 per 100,000) and 75-84 (19.56 per 100,000), while adolescents and young adults aged 15-24 had a suicide rate of 15.15 per 100,000. The highest U.S. age-adjusted suicide rate was among Whites (15.65) and the second highest rate was among American Indians and Alaskan Natives (16.74). Much lower rates were found among Black or African Americans (8.34) and Asians and Pacific Islanders (6.86).
"Suicide only thrives in the darkness and a vacuum. Most who seriously contemplate suicide really want to end their pain. They then see ending their life as the way to do it. That pain and despair can have identifiable external causes or can have none at all, with severe, persistent depression being the struggle," said Commissioner of Mental Health Mark O'Brien. "Depression is treatable, help is available. Understanding that can help bring hope and connection."
"Deaths by suicide are tragic, completely preventable, and represent a complex public health issue," said Commissioner of Health Dr. Gale Burstein. "The collective efforts of county government, local mental health agencies, advocates, family members and survivors have strengthened local resources and treatment options. Just as importantly, we have worked to raise awareness about mental health conditions and address the stigma around seeking care or counseling. Breaking down those barriers is an important step to our goal of suicide prevention."
On average, there are 132 suicides per day in the United States. White males accounted for nearly 70% of suicide deaths in 2021, and firearms were used in 54% of suicides in that year.
Younger groups have had consistently lower suicide rates than middle-aged and older adults; however, the prevalence of suicidal thoughts, planning, and attempts is significantly higher among young adults aged 18-29 years. Youth identifying themselves as lesbian, gay, bisexual, transgender, or questioning are four times more likely than their straight peers to commit suicide.
Crisis Services CEO Jessica Pirro said, "As we witness first hand the mental health impacts from the last several years, we stand together today to highlight the continued commitment by our community to prevent suicide. Reducing stigma and caring for our mental wellness are necessary to save lives in our community. With the commitment of Erie County, Crisis Services and the 50 plus organizations of our Suicide Prevention Coalition, we are determined to fight stigma and educate every community member on signs of suicide. Although one suicide is too many, our local rates do not align with the national numbers. This shows us that the work we are highlighting today, as we honor Suicide Prevention Month, is making an impact. We know support, connection and hope are the critical components to prevent death by suicide in our community."
For more information: