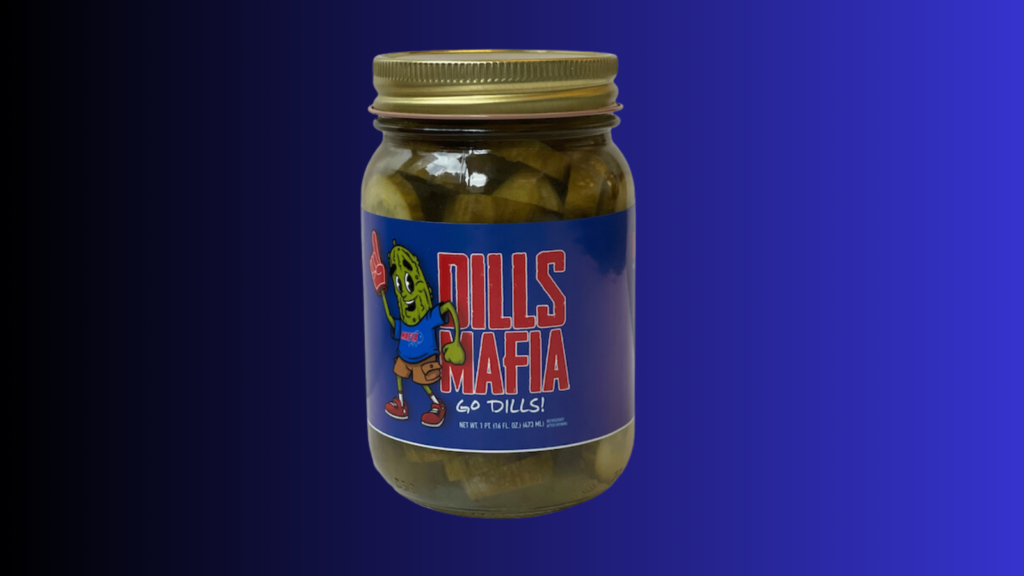 WILLIAMSVILLE – Just in time for kickoff, Tops Friendly Markets is excited to announce that DILLS MAFIA PICKLES have touched down exclusively at select area Tops Friendly Market locations. These delicious, crunchy pickles are all natural, vegan, and gluten free and the perfect addition to any game day line up! A portion of all sales will benefit FeedMore WNY.
"We are so excited to be partnering with PLB Sports and Entertainment (PLBSE) and Tops on Dills Mafia, said Del Reid, founder of Bills Mafia and owner and founder of 26 Shirts. "Food products are definitely outside the norm for us so we're glad we can begin this new endeavor with two experienced, well-respected brands."
"To bring an exciting new flavor profile to Tops customers especially as we enter into the height of tailgating season-the Superbowl of feasting- is always something we strive for and we're thrilled to partner with Del and PLBSE," said Mike Nugent, vice president of sales and merchandising for Tops.
Be sure to look for Dills Mafia Pickles during the upcoming 2nd Annual Tops Slider Showdown taking place on Friday, September 15, 2023 at the Tops located at 3980 Maple Rd. in Amherst. Competition will heat up between local media personalities beginning at 1pm. Tasked with the challenge to make the best slider this side of Lake Erie, the community is encouraged to stop down and cheer on their favorite team to help them win a $500 donation to their charity of choice. Del Reid will be joining as a celebrity judge along with Sup Chef (Alex Dispence), Sal Cappacio from Sports Radio WGR 550 AM, and Tops President, Ron Ferri. Nicholas Picholas morning show radio host from Kiss 98.5 returns as our emcee extraordinaire. # # # About Tops Friendly Markets
Based in Williamsville, NY, Tops Markets currently operates 149 grocery stores in New York, Pennsylvania, and Vermont, including five that are run by franchisees. As the largest private, for-profit employer in Western New York, with over 13,000 associates, the company is dedicated to providing sustainably sourced, high-quality products, while helping its communities flourish via support for programs that eradicate hunger and disease, educate youth and reduce environmental waste and energy consumption. For more information, visit www.topsmarkets.com
---

All WNY is made possible thanks to coffee and sleep deprivation.
We appreciate your readership. We like money, too.