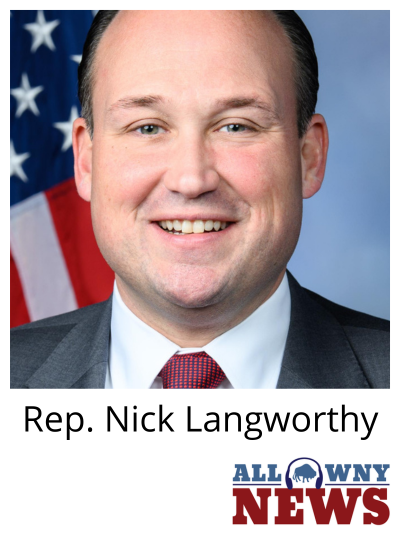 Congressman Nick Langworthy today announced the introduction of the Executive Branch Accountability and Transparency Act. This bill would create a central database for the financial disclosure and ethics documents of administration officials and political appointees.
Under current law, non-career appointees in the Executive Branch are required to make public documents verifying adherence to ethics guidelines and financial transparency, however they only exist on paper. The creation of this database will require the Office of Government Ethics (OGE) to establish and maintain a centralized database for all ethics records of non-career appointees in the Executive Branch, making it easily accessible for all Americans. The documents included in the database are as follows:
Financial disclosure reports and amendments to public financial disclosure reports;
Approval or authorization for an individual to accept a gift from an outside source;
Written ethics agreements;
Ethics training certificates, and
Certificate of divestiture of certain financial interests.
"They don't call Washington the swamp for nothing," said Congressman Nick Langworthy. "There are far too many people inside the federal government who are working for their own self-interest, not the American taxpayer and I've made it one of my top priorities to return power to where it belongs, with the people. What good is all this information if it's hidden in a file cabinet and inaccessible to the public? This legislation will make this information available to every American with the stroke of a few keys. Sunlight is the best disinfectant."
This bill is currently being co-sponsored by Rep. Jill Tokuda, Rep. Ken Buck, Rep. Mary Miller, Rep. Mark Alford, Rep. Glenn Grothman, Rep. Brandon Williams, Rep. Chuck Edwards, Rep. Clay Higgins, and Rep. William Timmons.
This bill has also been endorsed by Heritage Action, Project on Government Oversight, BullMoose Project and the National Taxpayer Union.
"Rep. Langworthy should be commended for his leadership on this important issue," said Dylan Hedtler-Gaudette, Senior Government Affairs Manager at the Project On Government Oversight (POGO). "The Executive Branch Accountability and Transparency Act is a welcome legislative reform. It's a no-brainer to say, as this bill does, that government ethics records that are already legally available to the public should be posted online for public viewing. The executive branch has erected obstacles to the public exercising its legal right to see these documents, and this bill will kick down those obstacles in the name of good government. The bill will empower all Americans to monitor the conduct of senior executive branch officials and POGO endorses it wholeheartedly."
"Holding the executive branch to a higher standard of transparency and keeping it accessible is in the best interest of the American public," said Ziven Havens, Director of Policy and Government Affairs for The Bull Moose Project. "We're optimistic that the Executive Branch Accountability and Transparency Act will shine much needed light on the inner workings of appointee ethics and ensure the best courses of action in the future."
---

All WNY is made possible thanks to coffee and sleep deprivation.
We appreciate your readership. We like money, too.