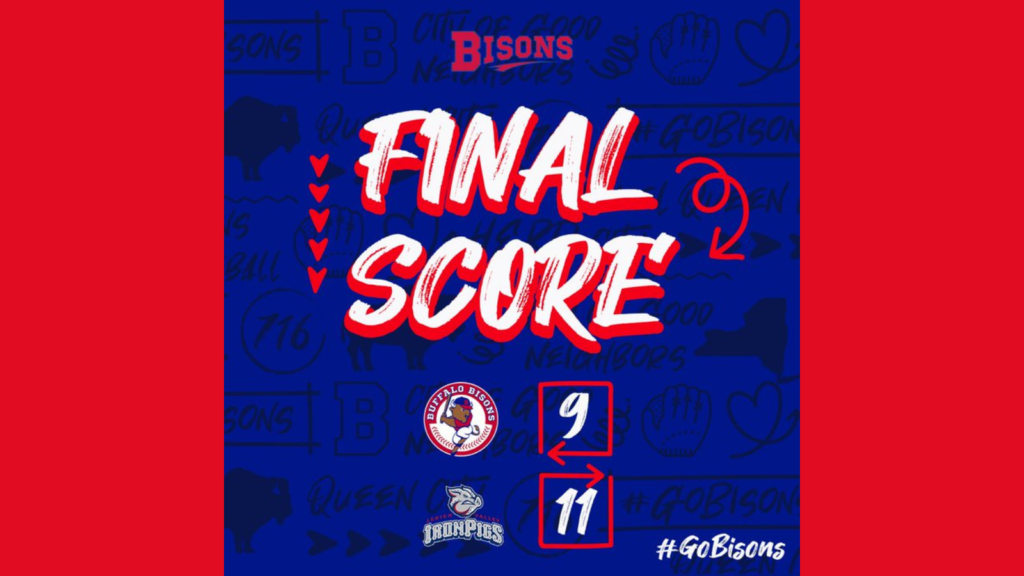 ALLENTOWN, PA – The Buffalo Bisons were unable to preserve their lead late, allowing the Lehigh Valley IronPigs to walk-off with an 11-9 victory on Wednesday night at Coca-Cola Park.
Davis Schneider started the scoring for the game with a two-run home run to deep center field in the top of the first inning. His ninth homer of the season scored Rafael Lantigua to give Buffalo a 2-0 lead.
The IronPigs are able to answer back late in the second inning as Jordan Qsar hits a run RBI groundout allowing Weston Wilson to score. Lehigh Valley began to claw back to make the score 2-1.
The Bisons are able to extend lead in the top of the fourth thanks to Tyler Heineman, Tanner Morris and a wild pitch. Heineman started the inning off with an RBI single allowing Wynton Bernard to score. Morris was able to drive Otto Lopez home with a groundout to Wilson. A wild pitch gets past the catcher and allows Heineman to score. Bisons continue their lead 5-1.
Lehigh Valley continued to hammer at the lead in the bottom of the 5th with a two-run home run from Jake Cave. The veteran's homer brought the IronPigs within two, 5-3.
Morris is able to cash in his second run of the game as he drove in Lopez with a line drive to left in the top of the sixth. Later in the inning, Rafael Lantigua was able to surprise Jakob Hernandez with a straight steal of home. Lantigua also recorded a straight steal of home on August 10, 2022 at Syracuse.
Jhailyn Ortiz scored on an error in the bottom of the sixth that allowed Lehigh Valley to get within three runs, 7-4.
Simon Muzziotti continued the IronPigs rally as he starts off the bottom of the 7th by hitting an RBI ground ball allowing Esteban Quiroz to score. The next batter up, Drew Ellis, hits a line drive to left as he drives in Aramis Garcia. Wilson mirrored the previous hitter, sending a line drive to left scoring Muzziotti and Ellis. The two-run base hit gave Lehigh Valley their first lead of the night, 8-7.
The Herd was able to reclaim their lead in the top of the eighth as Spencer Horwitz hit a sacrifice fly ball allowing Lantigua to score. Bernard reclaimed the lead with a line drive to left that scored Morris for a 9-8 lead.
Late in the bottom of the ninth, Ellis came up with another big hut and tied the game as he Cave scores. Wilson secured the victory for the IronPigs with a two-run walk-off home run to win the game 11-9.
Next up:
---