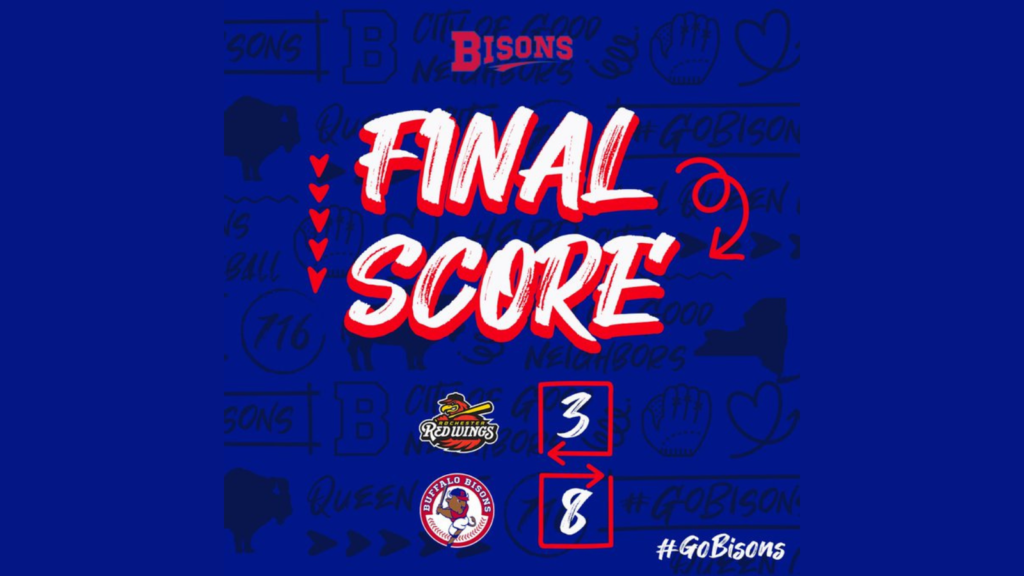 BUFFALO, NY—The Buffalo Bisons knocked off the Rochester Red Wings 8-3 on Saturday at Sahlen Field. The game, which started in a 1:30 minute delay, started in rain and clouds before finishing in a picturesque sun splashed afternoon in the Queen City.
Buffalo dominated the opening innings, bringing runners home in multiple ways via the struggles of Rochester's Cory Abbott. Rob Brantly got the scoring started for the Herd, hitting a sacrifice-fly that would bring Rafael Lantigua home to open a 1-0 lead.
Cory Abbott's early struggles continued when a wild pitch scored Spencer Horwitz to double the lead for the home side, 2-0.
The bottom of the second inning would prove to be fruitful for Buffalo, when Lantigua would add a sac-fly of his own to extend the lead to 3-0. Following an Ernie Clement walk, Horwitz stepped to the plate and gave Buffalo a 4-0 advantage with an RBI single that scored Cameron Eden and moved Clement to third base.
With two men on base, Davis Schneider stepped to the plate and inflated Buffalo's lead to 7-0 with a three-run home run to left. The home run is Schneider's seventh of the season, extending his team lead over Clement, who has gone yard five times himself for Buffalo.
Otto Lopez hit the third sac-fly of the game for Buffalo to open an 8-0 lead, this time bringing Brantly home.
Rochester attempted to get a rally going in the seventh, with a Derek Hill two-RBI single scoring Francisco Arcia and Darren Baker, 8-2.
The Red Wings struck for a third time, this time thanks to a Matt Adams single bringing Hill around to score and cut the lead to 8-3.
The bullpen would lock things down for the Herd, with Junior Fernandez keeping the Red Wings off the board in the eighth, setting the stage for Jay Jackson to finish the game out with a clean ninth inning in his first Buffalo appearance since May 2.
The Herd and Red Wings meet for the sixth and final time this week tomorrow, with first pitch scheduled for 1:05. Drew Hutchison is set to take the mound for Buffalo, with Wily Peralta scheduled to start for the visiting Red Wings.
Upcoming games: