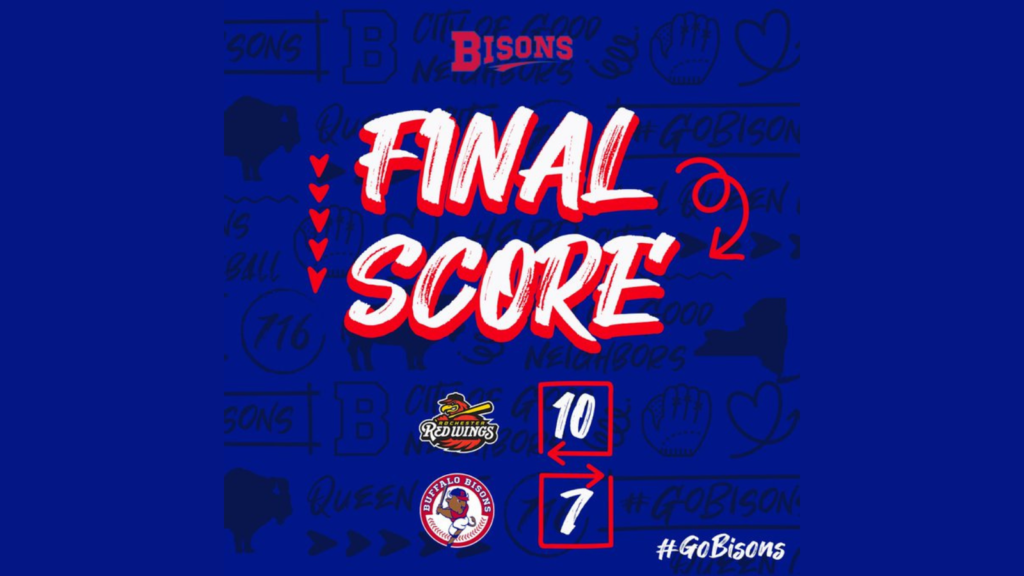 BUFFALO, NY—The Buffalo Bisons dropped the fifth game of a six-game series with the Rochester Red Wings 10-7, in an extra-inning affair at Sahlen Field.
The scoring for the night began in the top of the second inning with newly acquired Franmil Reyes hitting an RBI double to bring Franklin Barreto home, 1-0. Darren Baker hit an RBI groundout, driving Barreto in to extend the lead to 2-0.
The Bisons were able to claim the lead in the bottom of the third started by Spencer Horwitz hitting an RBI single to cut the lead to 2-1. The next batter up, Wynton Bernard, hit another RBI single to bring Davis Schneider home to tie the game, 2-2. The Bisons closed the inning by taking a 3-2 lead as Rob Brantly hit a sacrifice fly to score Bernard.
Baker had his second RBI of the game in the top of the fourth inning as he drove in Luis Torrens with a single to tie the game at three.
Buffalo was able to reclaim the lead in the bottom half of the inning. LJ Talley grounded into a force out, scoring Rafael Lantigua to open a 4-3 lead for the home side. Jamie Ritchie would step to the dish and hit an RBI single, bringing Horwitz home to extend the lead to 5-3.
In the top of the sixth inning, both Torrens and Derek Hill would score for Rochester due to a fielding error by Talley, knotting the teams at 5-5.
Thanks to some strong relief pitching by both sides, in what would turn out to be the Bisons fourth extra innings game of the season, a Richie Martin sacrifice bunt and Luis De Los Santos error in the top of the tenth inning would allow Franklin Barreto to score, giving the Red Wings a 6-5 lead.
Now, with bases loaded, Derek Hill drew a walk that allowed Reyes to score, advancing the lead to 7-5. A two-RBI single by Darren Baker then drove in two more runs, bringing the lead up to 9-5. Following an error on a close play at the plate by Ritchie, Hill scored, upping the lead to 10-5.
The Herd would attempt to rally in the 10th, with Cameron Eden's single scoring Ernie Clement, cutting the lead to 10-6.
Horwitz would then hit a sacrifice fly to left field, allowing De Los Santos to score, narrowing the lead to 10-7. Buffalo's rally would fall short, as the visiting Red Wings would hang on to win 10-7.
The two teams will face off Saturday in the fifth game of a six-game series at Sahlen Field. The first pitch is scheduled for 1:05pm., with Zach Thompson scheduled to start for Buffalo and Cody Abbott set to take the mound for Rochester.
Upcoming games: