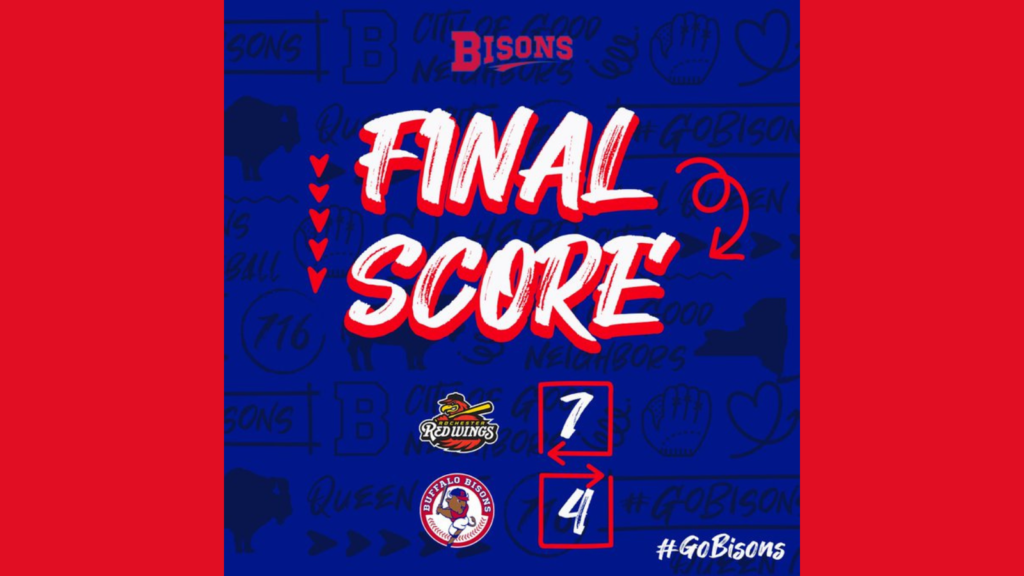 BUFFALO, NY – The Buffalo Bisons winning streak came to an end at five games with their 7-4 loss to the Rochester Red Wings on Wednesday night at Sahlen Field.
However, the Herd wasted no time getting to Rochester starter Paolo Espino, with Tanner Morris and Ernie Clement collecting back-to-back base hits in the bottom of the first inning. Morris extended his hitting streak to five straight games with a lead-off double and scored thanks to Clement RBI single. The base hit gave Buffalo a 1-0 lead after one.
Clement would extend his hitting streak to nine games with base hits in each of his first three at bats. His second RBI base hit in as many innings extended the Bisons lead to 4-2 when the team answered with three runs in the bottom of the second after the Red Wings scored twice in the top of the frame.
Otto Lopez scored one of the three Bisons runs in the second after reaching base on a single. He went from first to third on a throwing error by Francisco Arcia and scored a few pitches later on an L.J. Talley sacrifice fly. Morris added an RBI base hit in the frame as well.
Rochester scored five times in the top of the third off of Mitch White for a 7-4 lead, an advantage they would not relinquish. The big blow came off the bat of Derek Hill, plating three on a three-run home run to center field. Richie Martin also added a pair of RBIs on a two-run single.
The Bisons pitching staff recorded 16 strikeouts in the loss. All six of the outs recorded by Luke Bard in his start were thanks to punch outs, while four other relievers combined to go the next seven innings for Buffalo.
The same two teams will meet on Thursday night for the third game of a six-game set in Downtown Buffalo. First pitch is scheduled for 6:05 p.m.
Upcoming games:
---