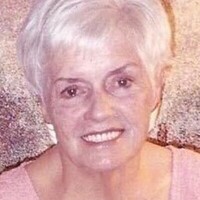 Violet McIntyre, 99, of Niagara Falls, NY, passed away peacefully on Thursday, March 16, 2023 at Northgate Manor. Born in Niagara Falls, she was the daughter of the late Duncan and Isabelle (Begg) Milne; and the beloved wife of the late Dudley McIntyre, whom she married on August 25, 1945.
Violet was a graduate of Niagara Falls High School and obtained her Associate's degree from Daytona Beach Community College at the age of 65. Following her graduation from high school, Violet began working at Moore Business Forms. She later retired from Occidental Chemical Corporation as a executive secretary after many years of dedicated service.
Violet loved dancing and took great pride in teaching line dancing at the local senior center up until the age of 80. She was also an avid fan of the New York Yankees. Above all, Violet centered her life around her family who will miss her dearly.
Violet is survived by three children, Robert (late Joanne) McIntyre, Larry McIntyre, Maureen (late Vince) Scalzo and was predeceased by her son, Daniel G (Debra). She is also survived by eight grandchildren, Melissa (Chris), Lori, Dan (Julie), Terry (Jackie), Paula, Pauly, Sarah (Travis) and Frank (Connie); twelve great-grandchildren and two great great-grandchildren, as well as many nieces and nephews. Violet was predeceased by her siblings, Kathleen (late Victor) Ladouceur and James (Kay) Milne, and her infant sister, Margaret Milne.
A Celebration of Violet's life will be on Monday, June 12 at a time to announced. Interment will be held privately by her family in Niagara Falls Memorial Park Cemetery. Memorial offerings may be made to Niagara Hospice or the Niagara County SPCA.