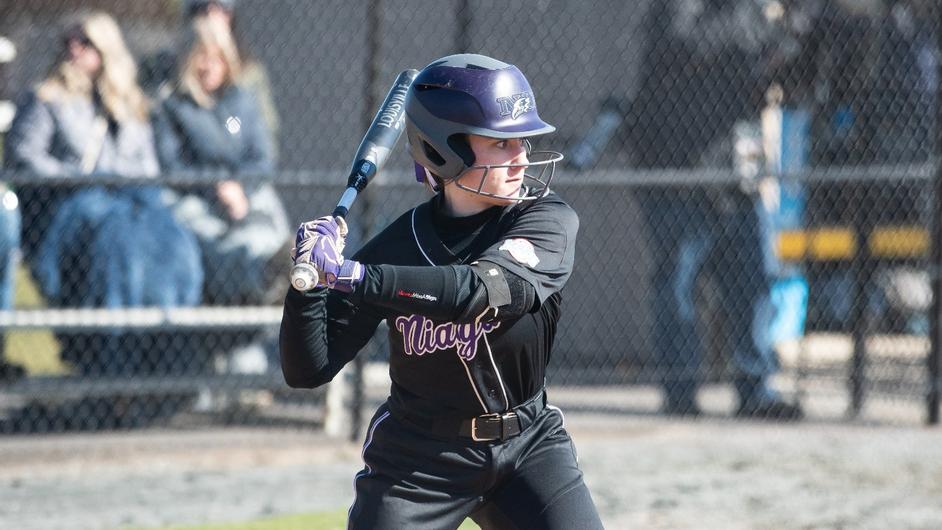 HONOLULU, O'AHU – The Niagara softball team dropped a pair of contests Saturday afternoon to Iowa State and Fordham. 
 
Game 1 Recap: Iowa State 6, Niagara 4
• The Purple Eagles got on the board in the first inning as a pair of leadoff walks and a passed ball led to Lindsay Mayo scoring the first run of the game when Samantha Hare grounded out to third.
• In the fourth, Hare would collect her second RBI of the contest with a solo home run to left field to put NU up by 2-0.
• Niagara starter Maddi Hickingbottom allowed just two base runners and struck out three batters before Iowa State would get five runs across in the top half of the fifth to take a 5-2 lead over Niagara.
• After Iowa State added one more in the top half of the seventh to go up 6-2, the Purple Eagles would rally for two in the bottom half.
• Hannah Mingle got things started for NU in the seventh with a one-out single and she would later come around to score on a Myshrall single to make it 6-3 in favor of the Cyclones.
• Niagara would later load the bases which led to Hailey Cenname scoring on a wild pitch to cut the Iowa State led to two, 6-4.
• Maggie Kellner would ground out to second to end the Niagara rally.  
 
Niagara Notes
• Hare's home run was her first of 2023 and sixth of her career. The Kenmore, NY, native led the team with two hits in the contest.
• Mayo and McInall each recorded a pair of walks.
• Mayo has reached base in 13-of-14 games played this season.
• Cara Leone and Julia Thompson pitched in relief for Niagara, allowing four hits and a pair of runs (1 ER) in a combined 2.1 innings pitched.
 
Game 2 Recap: Fordham 2, Niagara 0
• Hickingbottom would toss 5.0 innings of scoreless ball, allowing just three hits and striking out five before allowing a leadoff home run in the top of the sixth that gave Fordham the 1-0 lead over Niagara. She would go on to strike out one more before being replaced by Julia Thompson with one out in the sixth.
• An insurance run in the seventh gave the Rams a two-run advantage.
• Kellner led off the second with a single before being stranded as the next three batters went down in order.
• Niagara's second, and final hit, came in the fourth inning when Hare singled to right with one out, but nothing would come of it for NU.
• The Purple Eagles would record just one base runner in the final three innings as Fordham defeated NU 2-0.
 
Niagara Notes
• Niagara left three runners on base in the contest and went 0-for-7 with two outs.
• The Purple Eagles went 1-for-7 in the leadoff spot.
• With her eight 10 strikeouts through two games, Hickingbottom now has 52 on the season.
 
Up Next
• Niagara will play Hawaii at 2 p.m. HT on Tuesday, March 13, before heading back to the mainland.
 
Stay connected with Niagara Softball on Twitter, Instagram, and Facebook. Follow Niagara Athletics all year long on Twitter, Instagram, Facebook, and purpleeagles.com.
---