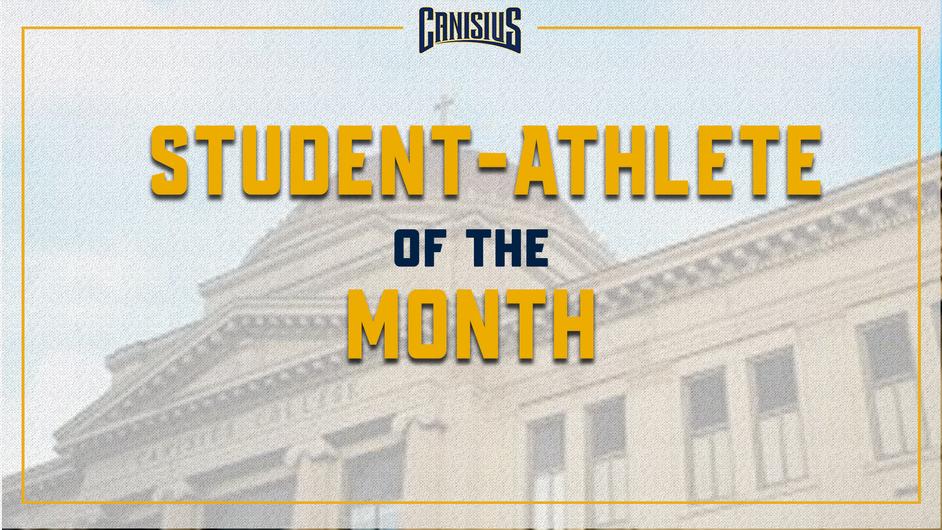 Canisius hockey senior defenseman Lincoln Erne and rowing junior Eliza Hanson have been selected as the Canisius Student-Athletes of the Month for January, it was announced on Wednesday.

A native of Blaine, Minn., Erne has appeared in 23 games for the Griffs this season, recording one goal and three assists for four points. He turned in his first career multiple-point game during Canisius' 5-1 victory at Bentley on Jan. 20, recording his first career goal in the first period before adding an assist on sophomore Alton McDermott's insurance marker in the second. A psychology major at Canisius, Erne is a three-time Atlantic Hockey All-Academic Team selection and a two-time AHCA All-American Scholar. He was also named an Atlantic Hockey Scholar-Athlete of the Year following the 2021-22 season.

Hanson, meanwhile, raced in three out of four events for the Griffs this past fall, helping the Open 4+ boat finish in third place at the Head of the Genesee race on Oct. 8 with a time of 22:38.487. The Syracuse, N.Y., native also rowed with the Open/Club 8+ skull at the Yinzer Cup and Head of the Schuylkill. Hanson, who appeared in all five events for the Griffs last season, is a health and wellness major at the school. She was named to the MAAC All-Academic Team in her first season of eligibility in 2022.

The Canisius Athletic Department enjoyed another solid semester in the classroom as 19 of its 20 varsity programs posted a cumulative team grade point average of 3.25 or better during the 2022 fall semester
Eleven teams posted a team GPA of 3.50 or higher, while the school's 386 student-athletes combined to post a department grade point average of 3.42 for the term.

The fall semester saw 38 student-athletes earn a perfect 4.0 grade point average. Those 38 student-athletes highlighted a group of 293 Canisius student-athletes to record a cumulative grade point average of 3.0 or better. That breaks down to 76.0 percent of the College's student-athlete population.
---

All WNY is made possible thanks to coffee and sleep deprivation.
We appreciate your readership. We like money, too.