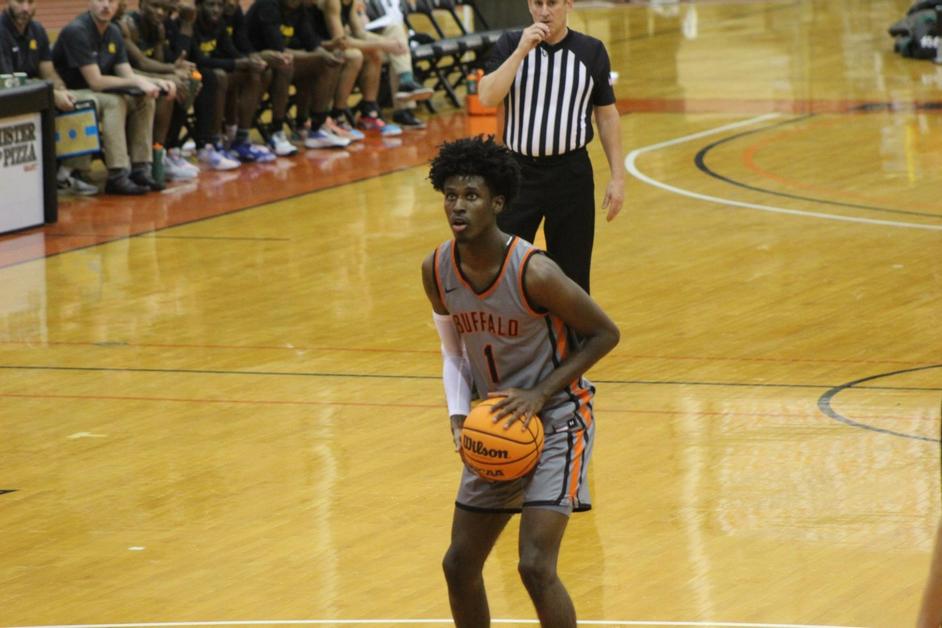 BUFFALO – Matt Parkinson (Springfield Gardens, NY/John Browne) sent the game to overtime with a 3-pointer at the buzzer, but the Buffalo State men's basketball team fell to Geneseo in SUNYAC action on Tuesday evening at the Sports Arena by a final score of 82-74.

THE BASICS
FINAL SCORE: Buffalo State – 74, Geneseo – 82
LOCATION: Sports Arena – Buffalo, NY
RECORDS: Geneseo (9-10, 5-6 SUNYAC), Buffalo State (1-18, 0-12 SUNYAC)

INSIDE THE BENGAL BOX SCORE
Parkinson led the Bengals with 20 points on 5-for-8 shooting from beyond the arc.
Christian Smallhorne (Queens Village, NY/The Martin Luther School) scored 17 points, while Argjend Imeri (Syracuse, NY/Nottingham) chipped in 13 points.
The Bengals held Geneseo to just 3-16 from 3-point range (18.8%) in the contest.
HOW IT HAPPENED
The teams traded baskets at the start, before a 7-0 run highlighted by a 3-pointer by Kevin Carpenter (Buffalo, NY/Kenmore West), a jumper by Parkinson, and another jumper by Smallhorne gave Buffalo State a 12-8 lead after nearly six minutes.
The Knights responded with a run of their own, outscoring Buffalo State 25-16 over the next 12 minutes to take their largest lead of the half.
Geneseo held a 34-30 advantage at the half.
A 13-5 Buffalo State run begin the second half gave the Bengals a 43-39 edge with 15 minutes remaining.
With Buffalo State leading 62-59 after a Robert Richards (Williamsville, NY/Williamsville South) jump shot with two minutes to play, the Knights scored six straight points to build a three-point advantage with five seconds left.
With a chance to ice the game, Ethan St. Lucia missed his second free throw, and Parkinson nailed the tying 3-pointer after dribbling down the left side of the court and launching a floating shot as time was about to expire.
Geneseo took control in the overtime period; however, scoring 13 of their 17 points from the free throw line to earn the victory.
FOR THE FOES
Cole Kattan registered a 30-point, 14-rebound double-double, while Sebastian Pacheco added 21 points and eight boards.
UP NEXT
Buffalo State heads to Fredonia on Saturday for a "Battle by the Lake" matchup at 4 pm.
---

All WNY is made possible thanks to coffee and sleep deprivation.
We appreciate your readership. We like money, too.