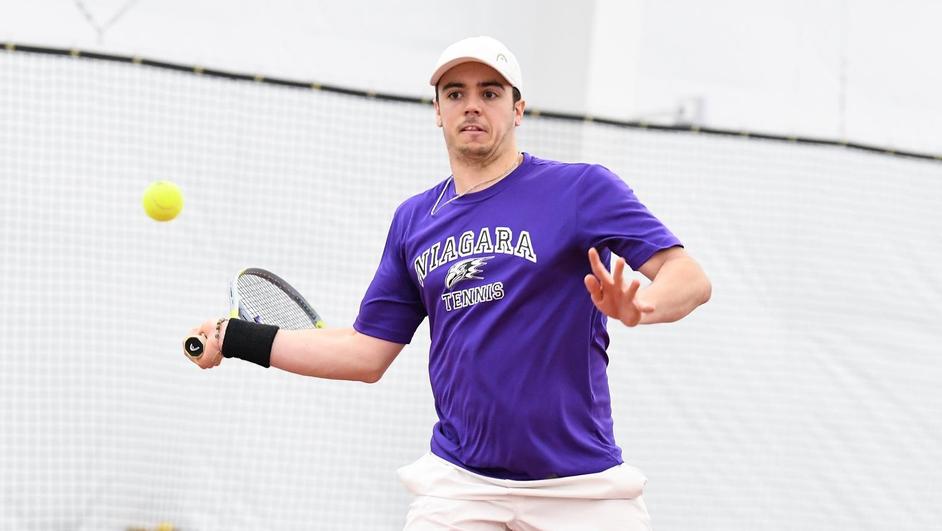 ITHICA — The Niagara men's tennis team opened their spring season on Sunday as they travel across New York State to face Cornell. The Purple Eagles fell 6-1 to the Big Red.
Match Recap
Jorge Sedeno earned the lone Niagara point as he won fourth singles. He opened the match with a 6-4 win in the opening set. After falling 6-2 in the second set, he bounced back and won 7-6 in the third set to take the point.
The number one doubles team of Tevor Masi and Tanner Bedard won three games in their doubles match but ultimately fell.
Bryce Bodak and Gurustat Makkar won four sets in their doubles two match but could secure a win as they fell 6-4.
Niagara Notes
Sedeno played his first duel match of the season in the fourth position, he is now 2-0 in dual matches this season. His record this season is 7-7.
Despite his loss in the third position Manuel Alonso sill has the top record on the team as he is 11-9 this season overall.
This was the second time since the 2018-19 season that Niagara traveled to Cornell, Niagara fell 7-0 in the 18-19 season.
Up Next
The Purple Eagles are back in action against Daemen next Saturday at the Village Glen Tennis Courts in Williamsville, the match starts at 4 PM. Niagara defeated the Wildcats on Oct. 23, 7-0.