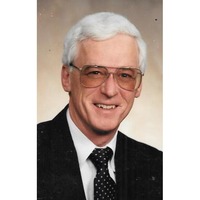 George I. Dooher, age 84, passed away peacefully on January 21, 2023, surrounded by family. Born in Niagara Falls, he was the son of the late William and Agnes Catherine (Dowling) Dooher.
George was a graduate of Bishop Duffy High School, obtained his Bachelor's degree from The Catholic University of America, and earned his Master's degree in Education from the University at Buffalo.
As an ordained Priest, George served under the Oblates of St. Francis de Sales, teaching in the sciences as part of their ministry in both Michigan and Lockport, NY. George left the priesthood in the early 1970s, but never lost his devotion and strong Catholic faith. He returned to Niagara Falls, working at both Carborundum Co. and Ohmtek (now Vishay).
On August 17, 1975, George married the love of his life, Ellen (Mills) Dooher at Holy Rosary Church. His second love, Meghan Marie, was born in 1977.
Later in life, George continued his passion for teaching in physics at Lewiston Porter High School and coached the women's tennis team for many years prior to his retirement.
In his spare time, he enjoyed playing tennis and bridge. He was also an avid golfer and aced a hole in one at Niagara Frontier Country Club where he was a longtime member. George was a lifelong student of science and military history. He also enjoyed engineering and took great pride in building and sailing his own catamaran.
In addition to his wife, Ellen of 47 years, he is survived by his daughter, Meghan (Kevin) Robb; his grandchildren, Edward 'Teddy' and Catherine 'Cate'; his siblings, John (Anne) Dooher, Elizabeth (Thomas) DiCamillo and Mary Ellen (James) Piotrowski, as well as many nieces, nephews and cousins. He was predeceased by his siblings, Peter Dooher, James (Annette) Dooher and Kathleen (late Gerald) Dooher.
Visitation will be on Saturday, February 4th, 2023, from 10 – 11 AM in St. Mary of the Cataract Church, 237 Fourth Street, Niagara Falls, NY, followed by George's Mass of Christian Burial at 11:00 AM. Interment will follow in Gate of Heaven Cemetery. Memorial offerings may be made to St. Jude's Children's Research Hospital. Visit mjcoluccifuneralchapel.com for online condolences.
---

All WNY is made possible thanks to coffee and sleep deprivation.
We appreciate your readership. We like money, too.