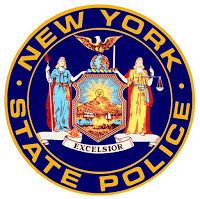 On January 22, 2023, SP Machias Troopers arrested James B. Simmons, 48, of Delevan, NY for Driving While Ability Impaired by Drugs and Aggravated Unlicensed Operation of a Motor Vehicle 3rd Degree and Candace L. Carnahan, 38, of Yorkshire, NY for Criminal Possession of a Controlled Substance 7th Degree.
During their investigation of a suspicious person complaint at a business on State Route 16 in the town of Machias, Troopers observed Simmons exhibiting obvious signs of impairment and determined she had been operating a motor vehicle while in an impaired condition. Carnahan, a passenger, was found to be in possession of heroin. Simmons failed standardized field sobriety tests at the scene. Both were then arrested and transported to SP Machias, where a Drug Recognition Expert evaluation confirmed Simmons' impairment.
Both were released with appearance tickets for Machias Town Court, where they are due to appear in February.
---

All WNY is made possible thanks to coffee and sleep deprivation.
Buy us a cup? (of coffee, we can handle the sleep deprivation ourselves)